Shopper Innovation Awards: Walmart and Mattel's virtual toy store
A pop-up in Pearson Airport made for convenient holiday shopping.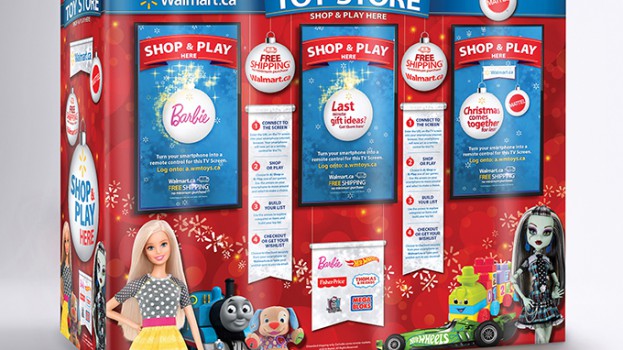 Silver: Path to Purchase / Out-of-Store 
The holiday season brings pressure to find the perfect gift. Consumers welcome anything to ease the stress, so Mattel and Walmart decided to help by bringing the store to them.
The retailer and toy maker teamed up with Brandfire Marketing Group to create an interactive Virtual Toy Store — a unique, one-stop virtual shop that sold the top 2014 holiday toys from Mattel.
With peak-­season traffic (more than 1.6 million travellers), ideal audience demographics and plenty of idle time, Toronto Pearson International Airport was chosen as the location for the pop-up store. Travellers in the terminal were invited to engage with the Virtual Toy Store, which provided product information and the ability to purchase toys, as well as the option to ship them anywhere in Canada for free.
People typically don't want to download an app for single use, so the agency created a unique URL that consumers could visit to interact with the pop-up store on their mobile devices. The technology turned any smartphone or tablet into an interactive remote, able to control what was happening on the virtual store's screens, which were mounted on the walls of the terminal.
To make the experience more engaging, branded games were included. Consumers were also able to automatically add items to a shopping cart on Walmart.ca, so when shoppers disconnected from the Virtual Toy Store, they were redirected to the site with all of the items in the cart. They could then complete their online shopping and pay without having to share any private data with the system.
The campaign generated 9.8 million media impressions and more than 500,000 social impressions.
Credits
Advertisers | Mattel/Walmart
Marketing director | Reidin Goode
Director, sales and customer marketing | Tara George
Marketing manager | Melissa Farjo
Sr. marketing associate | Shalin Shah
Associate manager | Breanne Louks
Agency | Brandfire Marketing Group
President | Rob Levy
Account manager | Kendall Donaldson
Senior account executive | Paulina Filewska
CD | Joed David
ACD | Caitlin Baynton