Putting retail research to the test
Results from a Mediative experiment reveal how in-store and online research intersect during the path-to-purchase.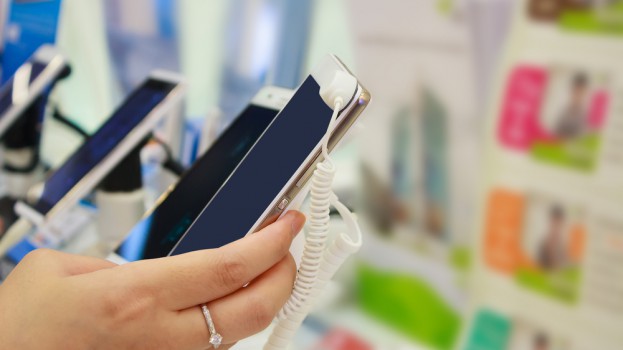 Given the choice, do consumers prefer to research their products in-store, online or both? Mediative wanted to find out, running tests using eye-tracking tech in March during Dx3  to begin to paint a picture.
At the Dx3 tech conference's Brain Lab, 97 participants wore eye-tracking glasses created by tech company Tobii as they were put through a pair of tests in a simulated retail environment.
In the first test, participants were asked to use "anything at their disposal" to find which laptop in the test store would be the most suitable gift for their spouse.
Nearly every participant (98%) looked at the product spec sheet next to the laptops, but only 46% used the spec sheet alone without accessing the internet. When they read the sheet, 49% read it "in some depth," while 15% read it for only a few seconds. Only 4% used the QR code on the sheet to access more information using their device, but 32% read the sheet to find the model number and price so they could research more information about the product using their device or laptop.
Of the 54% who did use the internet during the task, 54% did so using their mobile device, while 46% used the laptops they were researching. Of the 85% of participants who went to websites that could be identified, 45% went to HP's website (the laptops were manufactured by HP), while 55% went to other sites; 41% used more than one site during their research, which included HP's website, review sites like CNET or PCMag, or retailer sites like Best Buy or Staples.
Only 18% didn't touch the laptops they were researching, with 82% testing their capabilities by using them, or picking them up to feel their weight.
Following the test, Mediative interviewed the participants, 46% of whom said they'd buy in-store and 27% saying they'd buy online. Among those who preferred in-store, 71% said it was because they liked to feel and test a product before buying, with 40% saying it was to have access to knowledgeable sales staff. For those who preferred online, 86% said it would be to find the best price, though 40% said they could be convinced to buy in-store if there was a price match offer, or if sales associates were exceptionally knowledgeable.
In the second test, participants were asked to find a printer they liked in the store, and then to find a cheaper price for it online. Every participant used the internet in some way during this task (all of them used their phone or tablet, as the laptops were not available to them), with 31% going to HP's website, 31% going to Amazon and 24% going to other sites. Only 14% used more than one site when it came to finding prices for the printer.
Every participant also used the spec sheet next to the laptop, with 93% using it to search for the model number online and 7% scanning the QR code on the sheet. No one touched or tried using the printers during the test.
Following this test, 72% said they would buy online, with 28% saying they'd buy in-store. Among those who preferred in-store, every participant said it would be to touch the product and ask staff questions about it, while 86% of those buying online said it was because of a better price.
Featured image via Shutterstock