C&B tops at the Anvils
The agency takes Best in Show for its Tourism Jasper rebranding, while MacLaren wins the most awards overall.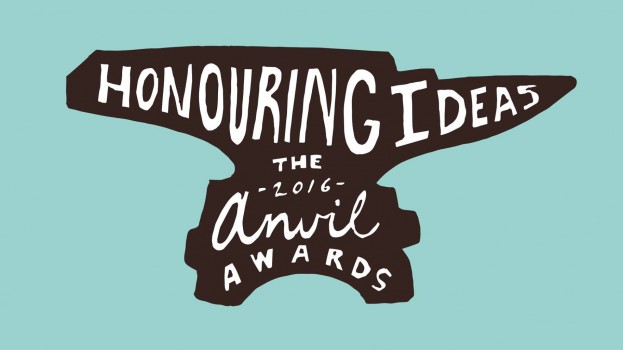 The Anvil Awards, given by The Ad Rodeo Association to the best work to come out of Calgary's advertising community, were awarded on Friday, with this year's Best in Show going to C&B Advertising.
The agency won for its rebranding work with Tourism Jasper. In addition to a new logo and brand package, the work also included a campaign led by a new, cinematic spot.
Altogether, C&B won seven Anvils, which also included work for Calgary Co-Op and the Calgary Stampede.
The most Anvils, however, went to MacLaren McCann, led by a variety of direct, OOH and B2B work for Bayer. It also picked up wins for GM, the National Music Centre and local shave shop Kent of Inglewood.
The winner of the Ad Rodeo's student competition was Anjuli Macasinag, a third-year advertising student at Alberta College of Art and Design.
Altogether, 15 Calgary agencies went home with at least one Anvil, with a full 18 recognized with Merits (the equivalent of a runner-up). See the full results below:
MacLaren McCann: 8
Bayer, "Cooking Retreat Apron": B2B, Event Package
Bayer, "Value": Direct
Bayer, "Elephant": Out of Home (Series)
GM Certified Service, "Summer Fire Starter": Display Ad (Single)
Kent of Inglewood, "Beard": Illustration
National Music Centre, "Music Birds": Out of Home (Single), Outdoor (Single)
National Music Centre, "The Music Stave": Display Ad (Series)
Merit
Bayer, "Passport": B2B
Bayer, "Pardner": Print
GM Certified Service, "Winter Scrape": Display Ad (Single)
Grumans Deli, "Happy Hanukkah": Print
Kent of Inglewood, "Beard": Poster (Series)
Lovely Hair Wax, "Lovely": Logo, Corporate Identity Package, Packaging
MacLaren McCann, "Naughty or Nice Gelato": Self-promotion, Illustration
MacLaren McCann, "Camp MacLaren McCann": Self-promotion
National Music Centre, "The Music Stave": Print
National Music Centre, "Music Love": Use of Technology
SAIT, "Job Grant": Integrated Media Strategy
C&B Advertising: 7
Best In Show: Tourism Jasper, "Venture Beyond"
Calgary Co-Op, "Fresh 2.0 – Milk": Print
Calgary Co-Op, "Fresh 2.0 – Milk & Eggs": Outdoor (Series)
Calgary Stampede, "Nashville North": Branded Environment
Tourism Jasper, "Brand Guidlines": Brouchure or Catalogue
Tourism Jasper, "Venture Beyond": Campaign, Logo, Copywriting
Merit
Calgary Co-Op, "Fresh 2.0 – Roses": Print Series
Calgary Co-Op, "Fresh 2.0 – Apples": Outdoor (Single)
Calgary Co-Op, "Fresh 2.0 – Milk": Art Direction
Calgary Co-Op, "Fresh 2.0″: Campaign, Photography
Heritage Park, "Weekends": Radio (Single)
Heritage Park, "Weekends & Once Upon A Christmas": Radio (Series)
Tourism Jasper, "Venture Beyond": Broadcast (Single), Non-broadcast (Single), Corporate Identity Package, Videography, Music/Sound Design, Art Direction
ZGM: 5
Alberta Health Services, "Seatbelt": Radio (Single)
Alberta Health Services, "Remember When": Radio (Series)
Calgary Distress Centre, "24 Hour Support": Non-broadcast (Series), Annual Report
Market Mall, "Dino Spotting": Microsite
Merit
Alberta Health Services, "Smoking in Public": Radio (Single)
Alberta Health Services, "The Big Burn": Website
Market Mall, "Stampede Pancake Breakfast": Poster (Single)
Market Mall, "Dino Eyes": Out of Home (Single)
Karo & Redline Interactive: 4
Calgary Drop-In, "Lives Begin": Broadcast (Single), Non-broadcast (Single), Integrated Media Strategy, Art Direction
Merit
Calgary Drop-In, "Lives Begin": Campaign, Videography
Trigger: 4
Calgary Zoo, "They're Here": Print Series
ConnecTeen, "Whisper of Hope": Social Media, Use of Technology
Hope Mission, "Hope Lunchbox": Anvil For Good
Merit
BrokerLink, "Beardsurance": Direct
Calgary Zoo, "They're Here": Outdoor (Single), Campaign, Photography
Calgary Zoo, "12 Days of Poo": Social Media
Critical Mass: 2
Famous 5ive Foundation, "Famous Five": Music/Sound Design
Nissan, "Diehard Fan": Mobile Application
Pollock Parke: 2
Crave, "Crave": Corporate Identity Package, Packaging
Venture: 2
Galvani H1 Hand Warmers, "Defeat the Cold": Poster (Single), Poster (Series)
Merit
Galvani H1 Hand Warmers, "Defeat the Cold": Photography
DDG: 1
Zaac Pick, "Constellations": Videography
Merit
Talisman Centre, "3433″: Non-broadcast (Single), Videography, Music/Sound Design
Zaac Pick, "Constellations": Art Direction
Evans Hunt: 1
Village Brewery, "Village Beardster": Non-traditional
Merit
Calgary Co-Op, "BBiQ": Campaign
Calgary Hotel Association, "360 YYC": Annual Report
CAMP Festival, "Tweet the Stars": Use of Technology
Evans Hunt Group, "Creative Kindling": Self-promotion, Copywriting
Fulcrum: 1
Qualico Communities (Bordeaux Developments), "Harmony Community Brochure": Printing
Merit
Lux Window & Glass, "Lux Calendar": Illustration
Qualico Communities (Bordeaux Developments), "Harmony Community Brochure": Brochure or Catalogue
Gerard Yunker Photography: 1
Lauren Bagliore, "Lauren Bagliore Spring 2015 Magazine": Photography
Merit
Lauren Bagliore, "Lauren Bagliore Spring 2015 Magazine": Art Direction
Roth & Ramberg: 1
Roth & Ramberg, "Random Acts of Photography": Self-promotion
Merit
Roth & Ramberg, "Random Acts of Photography": Photography
Swank Media: 1
Coleman Smith Chinese Medicine, "Coleman Smith": Website
Merit
Coleman Smith Chinese Medicine, "Coleman Smith": Logo
Wild Forest: 1
CAMP Festival, "Gather 'Round": Illustration
Leven Creative
Merit
TransCanada/Coastal GasLink, "Aboriginal Engagement Series": Non-broadcast (Series)
Six Degrees Music & Sound
Merit
Epic Games, "Paragon Trailer": Music/Sound Design
ESPN, "NBA Draft ft. Questlove": Music/Sound Design
RBC World Juniors, "The Victorious": Music/Sound Design
Uppercut
Merit

Hungry Volcano, "Hungry Volcano": Logo, Corporate Identity Package