Cadbury brings back the bikes
A promotional stunt by The Hive helps put some joy into the brand's annual Bicycle Factory program.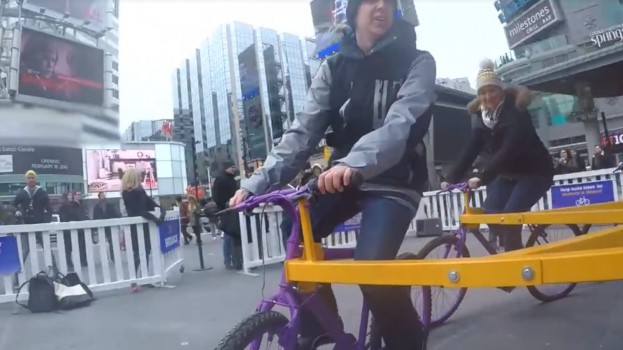 Cadbury has brought back its Bicycle Factory program for the seventh year, once again asking Canadians to help children in Ghana get to school more easily by building virtual bikes online and sending real ones to the African country.
Ghana is one of the primary regions from which Cadbury sources cocoa. Long walking distances to schools make it difficult for children in the country to receive an education, which prompted the brand to start providing bicycles to its communities.
The program has a broad target of Canadians who want to make a difference, Natalie DeJong, consumer engagement manager at Mondelez Canada said in an emailed statement to strategy. "In Canada, a bike is something very different – this is a way to show how a bike that we use for recreation, can help increase access to education and empower students," she said.
This year's campaign, led by The Hive, included an experiential event held at Toronto's Yonge-Dundas Square in April. The brand created a bicycle-powered "Joy-Go-Round" that passersby could ride to help assemble 100 virtual bikes.
A video of the event is now being shared online through Facebook and Instagram to get more Canadians to participate online through May. The campaign is also being supported with additional static content on social media and in-store.
Since 2009, the program has sent 28,000 bikes to students and teachers in Ghana and this year, it's aiming to deliver an additional 1,000 bikes. Cadbury partnered with World Bicycle Relief, which works with World Vision, to distribute the bikes in Ghana.
While the Bicycle Factory program is Canadian-specific, it does ladder up to Cadbury's global corporate philanthropy, which includes its Cocoa Life program that supports farmers in Ghana and other cocoa-growing regions.