Flipping the script for Camp Day
A negative poem turns into an inspiring story as Tim Hortons looks to show how going to camp provides long-term benefits.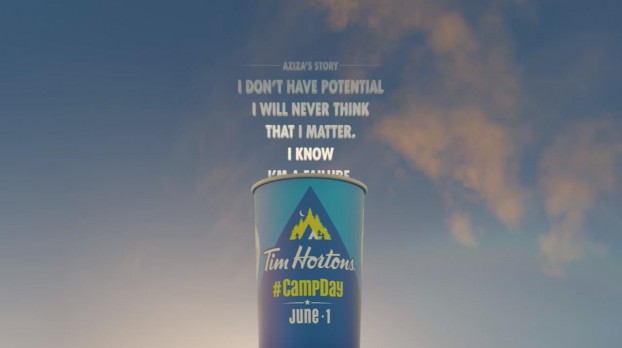 Today is Camp Day, Tim Hortons' annual fundraiser where all proceeds from coffee sales go to the Tim Horton Children's Foundation, helping kids from low-income households attend summer camp. But this year, the fundraiser's 25th anniversary, the QSR is showing how going to camp benefits children for more than a few fun days in the summer.
Told from the perspective of Tim Horton Children's Foundation alum Aziza, a TV spot shows a poem that only seems to illustrate her issues with self-confidence. But the ad then flips, using the same lines read in reverse order to show how everything changed because she was able to go to camp.
The concept has also been replicated in transit, print and OOH ads, with radio spots following the same story arc. Online videos tell more of Aziza's story, as well as those of Kyle and Maxim, who also went to camp through the foundation. Tim Horton Children's Foundation has also created a new microsite that features information about Camp Day and the foundation's work, as well as compiling social posts made using the #CampDay hashtag. A grocery store push is encouraging shoppers to visit the site through flier and in-aisle promotion.
David Clanachan, president and COO of Tim Hortons Canada and chair of the Tim Horton Children's Foundation, says while past campaigns have focused mostly on driving awareness for the fundraiser and where the money goes, the idea this year was to better communicate how going to camp can give kids from low-income families "tools they need and the emotional maturity to deal with some of the difficult issues they face."
"We really want people to understand the scope of Camp Day and the fact that we have a very deliberate approach to empowering the kids that come to camp, rather than simply giving them a fun camp experience for a few days," he says. "It's an experience that can be the catalyst to change their outlook on life and build essential life skills to find their own success and thrive as contributing members of their communities. It all starts with people buying a coffee on Camp Day to help turn a kid's life around, and the idea of helping to turn a kid's life around is really key to our message this year."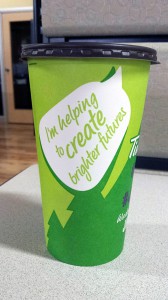 While the ads mostly feature the blue cup, Tim Hortons has released designs in orange, green and purple as well, to celebrate the 25th anniversary of Camp Day. Each cup features a quote in a speech bubble that looks like it's coming out of a customer's mouth when they drink their coffee.

Clanachan says this makes the cups more "instagramable," further extending reach through social channels, similar to how it previously released multiple designs for its "knitted" holiday cups. Tim Hortons is also selling braided bracelets, resembling the "friendship bracelets" customers may have made at camp themselves, for $2 while supplies last.

The idea of a "palindrome poem" isn't completely new, but the concept earned a lot of attention last summer when a teenager's inspirational take on the form went viral online.

Those who can't make it to a Tim Hortons location today can make a donation online any time of the year.