The new Sears wish book
COO Becky Penrice discusses how the 64-year-old retailer is finding its foothold for the future with Initium, Pinball and its iconic catalogue roots.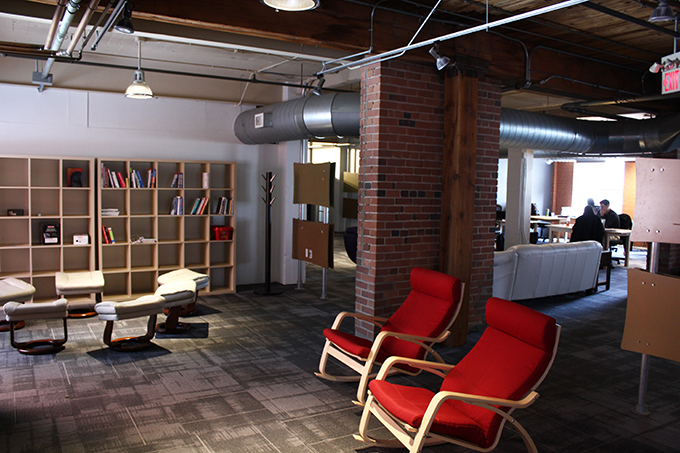 This article appears in the June 2016 issue of strategy.
In February, Sears Canada opened Initium, a start-up inspired, open concept office space in Toronto's Entertainment District. The space has its own dedicated staff tasked with revamping the retailer's digital framework, particularly as it relates to e-commerce, by replacing 262 connected legacy systems with a single, cloud-based system.
Besides saving the company money, the system will allow for better inventory tracking at 130 core retail locations and the ability to track online purchases from payment to delivery with on-board GPS. The new e-commerce experience will be organized – much like its new catalogues – by lifestyle (meaning a "bedroom" section could contain everything from furniture to home decor to fashion).
Led by Corey Messom, previously VP of digital innovation at IPG-owned ad agency Fuel, Initium's work space is meant to make collaboration easy. Staff and vendors bounce from one section of the space to the next, pulling in the appropriate experts along the way.
The results of Initium's e-commerce work will launch in a pilot later this year, and Messom says Initium could be adapted to other areas that need a "fresh look."
For example, it recently added a mini-content studio, primarily to test out new photography methods for digital platforms, but it's also being tested to create on-demand social content as needed.
Between repeated changes in the head office and recurring quarterly sales losses, Sears Canada needs a fresh look, in general.
The company has gone through four CEOs in as many years. Its COO left in February and its CFO is leaving at the end of June. While its revenue and sales losses are slowing, it still posted a $67.9 million net loss for the 2015 fiscal year. Plans to reduce up to $127 million in expenses this year have led the company to implement a "culture of frugality" as it looks to exit more retail locations and reduce its real estate footprint.
But this has also ignited a reinvention that is improving Sears' customer experience. It's reducing the size and frequency of its flyers and catalogues, but also the amount of products shown in them, making them less of a vehicle for transactions and more of a lifestyle magazine-inspired platform that shows how products can be incorporated into a consumer's life.
That storytelling approach is also influencing its product assortment and how it's displayed in-store. It's relying less on printed media in its marketing mix, using more data-driven approaches to drive better ROI.
And, after being one of the first entrants into e-commerce in 1998, it's greatly reducing the costs of a digital system that's become bogged down by years of inefficient additions by building a new one, from scratch.
Becky Penrice became the permanent COO in April after taking on the duties on an interim basis following Klaudio Leshnjani's departure. In a press release announcing her new position, executive chairman Brandon Stranzl highlighted the results and innovation – in everything from IT to loyalty programs – she had already brought to the company as SVP of human resources and information technology.
Strategy recently spoke to Penrice about the changes Sears is set to usher in.
Why did Sears launch a completely separate innovation space?
We're trying to be more nimble, fast and flexible, but we found our technology platform is like a maze. Imagine a company with somewhere in the range of 200 legacy systems trying to add something new, whether it's e-commerce or bringing tablets into the store for POS.
We were either coming up against money roadblocks, because it's expensive to build something around legacy, or we were building onto legacy, which took new systems and made them less optimal because we had to connect them to something old.
By creating a separate environment, it was separating out the thinking.
Why is innovation a priority for Sears?
One of the things that's really important to us is becoming customer-obsessed, as opposed to competitor-obsessed. So we need to be faster in terms of how we're able to get to our customer and sell our products. We talk about having an integrated point of view for marketing, but we also need integrated technology, and right now our technology speaks differently. We have different inventory in our catalogue versus retail versus online, and that makes it difficult to have one voice for a customer when you have systems that have different prices and model numbers.
Are catalogues and flyers still important, given this focus on digital innovation?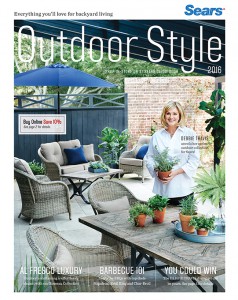 Catalogues gave us a direct-to-customer approach that ended up being our foundation. Now we're using it to help the customer see how products will look in their lives, so they get excited about them. The Wish Book will still be iconic for us. A lot of Canadians, especially our traditional customers, are still interacting and transacting with us primarily through catalogues. But this can also be something that drives customers into our other channels, be it retail or online.
Does having "a culture of frugality" make it difficult to innovate?
No, I would say it requires us to be extra innovative. It's a constraint that makes us smarter, because when you have little or less, you're forced to find ways to do it differently from those who have unlimited resources. We want to deliver great stuff to our customers, and with less money we have to be that much more effective in the ways we do that.
Bouncing back in-store
Sears Canada's main priority for its bricks-and-mortar retail has been to clean up the experience – from reducing signage and finding simpler ways to speak to customers, to curating its product assortment to make departments less cluttered.
It's also brought in new licensed merchandise partners like Debbie Travis, with Travis and her products appearing in-store, online and in its marketing.
At the centre of this is Pinball, a new merchandising initiative that focuses on improving the presentation of its products by having customers "bounce between" different departments and products.
Sears is hoping it will command more customer attention by making stores easier to navigate and creating narratives using small vignettes centred around specific items. For example, a shirt could be on a table next to accessories that pull a look together, displayed in a backyard barbecue environment where that look could be worn.
After testing Pinball in women's apparel in seven select stores, Sears saw a 10% sales increase, convincing it to roll it out more extensively this year. Pinball is currently implemented in 30 stores and Sears is expanding it to menswear and other key product categories.
Why did you re-examine store layouts?
We had traffic in our stores that we weren't capturing. If you think of our traditional store layout, it's often a long aisleway. We needed to take those customers who were walking from the entrance through to the other side of the store to get to the mall and create points of interest so they would stop and interact with our products.
Your new president is also your new chief merchant. How are you approaching your merchandising differently?
To be customer-obsessed, you have to start with what they want and work backwards. Our goal is to have products that are relevant to 75% of Canadians. We're not looking to be luxury or super high-fashion. We're about middle Canada, providing products that are the right price and right quality for them.
If we don't have those kinds of products in our assortment, it's not going to matter if we have fancy stores with fresh paint. So we've started to focus more on product lines we can tell a story around to draw Canadians in and get a sense of how the products we're selling relate to their lives. Bringing in Debbie Travis is a great example.
Making the most of its marketing
After working with Toronto's Bimm since 2013, Sears named TB&C in Baltimore its new agency of record earlier this year (the move is unrelated to a recent agency review Sears Holdings completed in the U.S., which saw the creative work go to Publicis).
Stranzl worked with TB&C at a past job and suggested partnering with them for the relaunch of its Sears Club loyalty program, which led to Sears expanding and formalizing the relationship. In March, it named Strategic Objectives its new public relations AOR. Those new relationships have led to "Sears is for Everything You Need," the store's new core brand message.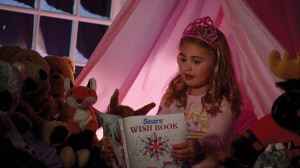 Building on its roots of being a go-to store for any product a customer might need, the platform began during the holiday season with the tagline "For Everything Under The Tree," and has been brought to life more recently with "Everything Springing Up."

Internally, Sears Canada began re-examining its marketing and media strategies at the end of 2015 to be more "disciplined" and "data-driven," starting with the holiday shopping season and rolling out to more promotional seasons in 2016.

It has been relying on customer feedback more than ever to drive decisions, from the products it's showing to the platforms it's using to promote them.

For instance, it's employing more social influencers to reach younger consumers. But as it's creating e-commerce experiences, flyers and product assortments around the idea of storytelling, it is also ensuring, for the first time, that story is the same whether the consumer is interacting with Sears online, in-store or through traditional media.

 Is being more cost-conscious impacting your marketing?

We want to make sure we're getting the best value for the money we're spending, and being data-conscious helps. We saw that in the last holiday season when we offered our daily deal. We did the same thing the previous year, but we were spending $3 to make $3, and what we were able to do last quarter was spend $1 to make $3. Our focus on data is about getting our marketing vehicles to work harder for us.

How is this different from the way you were doing things before?

We relied a lot on the flyer and newspaper, so we shifted from that and did more on TV, radio and, especially, digital. The flyer is important but it was also a bit of a crutch for us, so the intent is to let the data tell us where to spend our marketing dollars versus last year. If the consumer isn't reading the flyer, we can still use it. We just let the data tell us to print or distribute it in a new way [so they do read it].

How has your marketing department changed?

We're bringing in more social- and digitally-savvy talent to round out the team. All elements of marketing have been brought together under one umbrella we call the "Office of the CMO." It's PR, catalogue, digital, promotions, everything – all at the table with our new agencies. Those were all siloed before. There was a time when the flyer wouldn't have had anything to do with our catalogue or our website or Instagram. We would advertise an item in the flyer, and someone who would try to order it online would see a different item promoted instead, if they found it at all.

We found bringing the team together [gave us] one voice and helped for fast decision making. That perspective has been a game-changer for us.