DanActive finds some strength
The Danone brand has your traffic jam cure, with a new campaign that preaches resilience and tries to connect emotionally with consumers.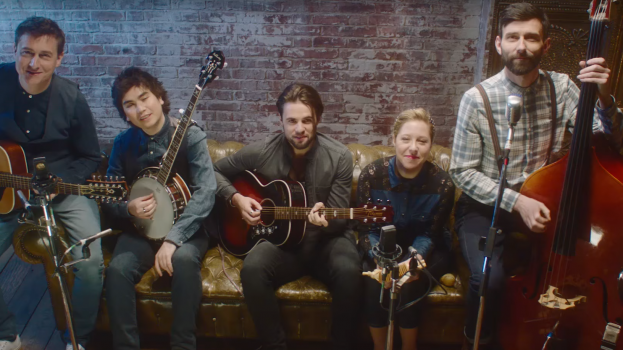 Danone Canada is reminding Canadians to "stay strong."

A new global campaign for DanActive, adapted for the Canadian market, launched last week to help consumers get through the day. The push is meant to tap into the idea that a healthy breakfast is the foundation of that great day, says Genevieve Bolduc, senior brand manager for Danone.

"So it's really about tying DanActive to your morning routine so you can face the day ahead," she says.

This marks a slight shift for the brand, she adds. Previous campaigns were very product-focused, but in this case, she says DanActive is hoping to create a conversation with consumers, connecting more emotionally with the audience. In particular, globally people seem to share this idea that even though "people are facing ups and downs, we keep going," she says. "And we wanted to celebrate that."

Created by Y&R globally (and adapted by Saint-Jacques Vallée Y&R), a series of digital and social videos feature the fictional band Stay Strong Brothers, who sing tunes about resilience, which is the campaign's main theme. For example, "Traffic" encourages people stuck in a jam to crank up the disco, have a seated dance party and create the "most exclusive club in town."

The supporting 30-second ads will run during hit TV shows, while local media partnerships with RDS (the Quebec sports network) will feature a new segment celebrating the resilient player of the day. The spots themselves feature people as they exuberantly get through their tough days (teaching, farming) with the help of DanActive (and a catchy tune).

Out-of-home featuring frustrating commute situations (such as sitting next to a rambunctious child) also encourage consumers to "stay strong." This was the most adapted material, Bolduc says, with the creative specifically targeted at the three cities in which it is running: Montreal, Toronto and Calgary. (For example, since research showed more Torontonians take the subway than Montrealers, the media buy, handled by Carat, had more emphasis on the TTC.)

The entire campaign eschews a primary age demo, she says. Instead, the push is geared at adults of all ages who are "realization seekers," or rather those who are  looking to "get more out of life, are go-getters, and really driven people."

It will run until the end of July, and then a second media buy will hit the airwaves in November/December.