Cannes roundup 2016: A recap of the awards
ICYMI, here is a look at the Lions and the shortlist mentions Canada has picked up so far.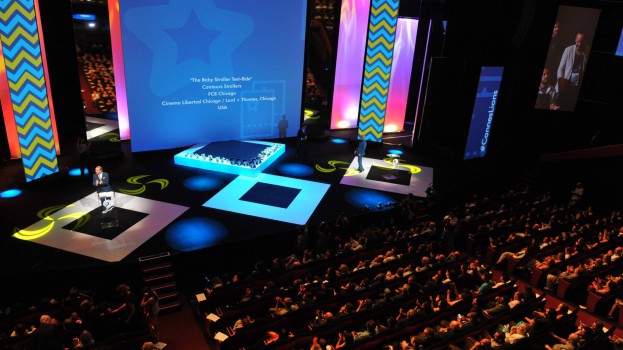 UPDATE: This article has been updated to reflect two additional shortlist mentions in the Media category and an additional win in Promo & Activation.
Four festival days gone, four more to go.
It hasn't been the same stellar start as we saw in 2015: this time last year, Canada was in full form and ready to shatter it's personal record. But things picked up slightly last night. Four agencies (Tank, Cossette, J. Walter Thompson and Leo Burnett) took home six Bronze Lions in the Radio and Direct categories, while Jam3 picked up a Silver in Promo & Activation for its work with MTV. That brings Canada's tally up to eight Lions with Grey's Silver Health win last Saturday.
The campaigns that picked up awards so far include Ovarian Cancer Canada's "LadyBalls" campaign (Grey), Valda's "Daycare" spot (Tank), Kobo's "The Birds" and "The River" ads (Cossette), Speakers Academy's "Femme-A-Palooza" and "Give Him Everything" spots (J. Walter Thompson Canada), as well as Raising the Roof's "Coming Soon" stunt (Leo Burnett) and MTV's "MTV VMA Green Screens" (Jam3).
As for the shortlists, the country was credited with 20 more mentions on the Creative Effectiveness, Creative Data, Cyber and Media categories this morning.
In case you missed it, here are the links to shortlist and winner coverage:
Friday: Canada nabs five Health nominations (Health)
Saturday: Ladyballs takes a Silver Health Lion
Sunday: Canada picks up 28 shortlist nods (Promo & Activation, Print, Glass)
Monday: Canada gets 28 more shortlist mentions (Design, Digital Craft, Outdoor, PR)
Monday: Canada brings home seven Lions (Radio, Direct, Promo & Activation)
Tuesday: Canada gets 20 more shortlist noms (Creative Effectiveness, Creative Data, Cyber, Media)
The winners from Monday's shortlists, and today's Creative Effectiveness shortlist, will be announced this afternoon at 3 p.m. (EST).
Here's the Canadian shortlist tally for 2016 so far:
Design: 14
Cyber: 8
Direct: 8
Radio: 8
PR: 6
Creative Data: 5
Print & Publishing: 5
Health: 5
Outdoor: 5
Media: 6
Promo & Activation: 6
Digital Craft: 3
Creative Effectiveness: 1
Glass Lion: 1
Mobile: 0
Product Design: 0
Pharma: 0
And here's the winner tally:
Health: 1 (Silver)
Radio: 5 (Bronze)
Direct: 1 (Bronze)
Promo & Activation: 1 (Silver)