Robax explores its backstory
A new campaign for the back pain brand uses puppets on a stage to empathize with its target's suffering.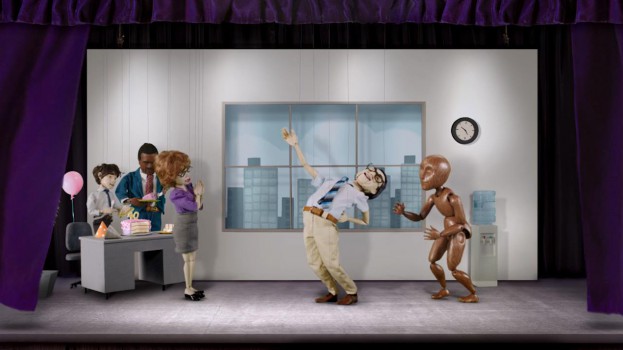 A new campaign for Pfizer's Robax brand is using its familiar mascot to tell a story on a grander stage.
In a new campaign for the back pain relief products, agency partner Taxi has taken the wooden puppet mascot "Woody" to the stage, introducing performances by marionettes who are put into unfortunate situations because of their back pain, before Woody shows up again with the right Robax product to help them get back to doing what they love.
Woody has been Robax's mascot dating back to the 1990s, when he appeared in TV spots as a marionette, whereas more recent ads have evolved him to a CG animation character. Research Robax conducted leading up to the campaign showed consumers had an extremely positive association with both the Robax brand and Woody when the mascot was on strings, leading to a creative platform entirely based on stories told by puppets like him.
Despite using puppets, Robax is attempting to better reflect the realities of Canadians suffering with back pain to show that the brand understands how it can mean missing out on the things they enjoy most. While the characters in the spots make the campaign fun and recognizable, the situations they're placed in will feel very familiar to people dealing with back pain.
"The key to our creative platform was to leverage the brand equity in Woody, using him to personify the brand – demonstrating empathy and offer hope to back pain sufferers when they need it most," Jordan Doucette, ECD at Taxi, said in a press release. "Using puppets gave us the opportunity to dramatize pain situations that our consumers could easily relate to."
The "office dance" spot is already running on TV, with 15-second videos focusing on puppets playing golf and tennis launching on digital platforms last week. Ted Ykema, Pfizer's consumer healthcare marketing director, said in an email that the strategy is to use the TV spot for broader awareness about Robax and its brand promise of giving people "the freedom to move," while the digital videos will target and retarget potential back-pain sufferers with more specific information about the brand's two main products, Robax Heat Wraps and the Robax Platinum oral treatment.