Natrel's Milk Bar comes to Toronto
The location launches with decor and a signature drink specific to the city as the brand also pushes its new iced coffee.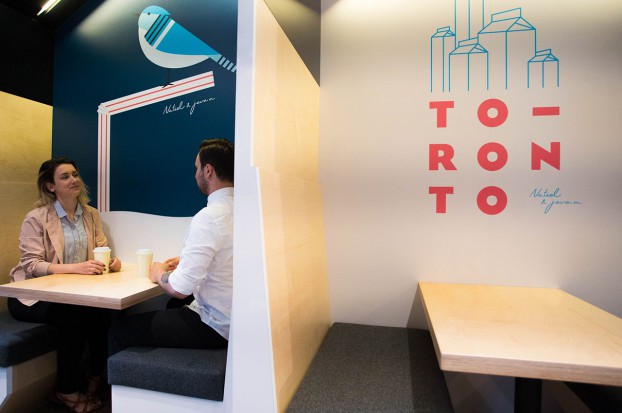 Natrel has brought its Milk Bar concept to Toronto, with its first location outside Montreal set to open Thursday.

A partnership with coffee brand Java U, the new location has a similar milk carton-inspired design to its Montreal location, but with decor specific to the Ontario capital, including a nod to its skyline and a blue jay bird. Java U has also created a signature latte, made with Natrel's maple-flavoured milk, for the new location, which is in the city's trendy West Queen West neighbourhood.

The idea behind both the original bar and the new location is to enhance the experience around the Natrel brand and drive trial of its various products, especially among the millennial group, says Jean-Francois Couture, VP marketing at Agropur Canada. Both locations – designed by Lg2Boutique – offer the range of Natrel's milk, flavoured milk and lactose-free products.

With milk consumption on the decline, Natrel's strategy – which picked up a Shopper Innovation Award earlier this year – has been to partner with the coffee brand to elevate the experience around premium specialty coffee drinks (many of which are made up of two-thirds milk).

In Ontario, Natrel is the brand leader in both fine-filtered and lactose-free milk, with around 50% market share, Couture says. That made Toronto a natural fit for expanding the Milk Bar concept.

Online and in-store, Natrel is continuing to market its milk-related merchandise, including clothing and travel mugs.Recently, Natrel also launched packaged iced coffees, with Java U branding on the bottles, which are being sold in traditional grocery and drug store retailers.