Spotify puts its stats on display
The music streaming service incorporates real figures from Canadian users in its latest ad campaign.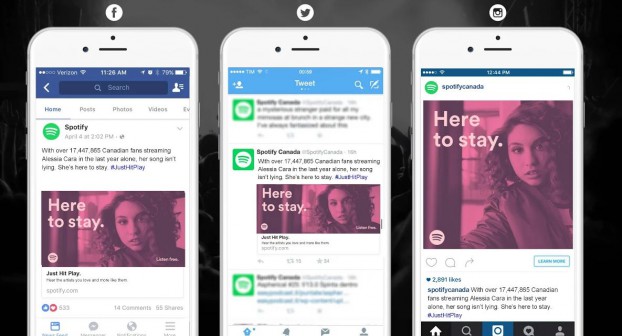 Spotify Canada has garnered some shareable stats in its nearly two years live in Canada, and the streamer is putting them on display in its new campaign.
Called "Just Hit Play," the OOH and digital campaign showcases the numbers for artists like Justin Bieber, whose hit single "Sorry" has been streamed over 15 million times by Canadians on the service. Creative for the campaign is from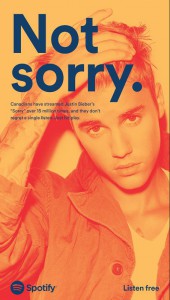 Anomaly, with media from UM.
The artists selected for each of the OOH ads (which are live in Toronto, Montreal, Calgary and Vancouver), were chosen based on their popularity in the city the ad appears, said Jamie Herbert, head of consumer marketing, Spotify Canada. For instance, Bieber's ads are live in Toronto, and spots for Coeur de pirate are live in Montreal.
Digital ads in the campaign were primarily bought programmatically, with an emphasis on social media buys, as well as on Canadian music sites.
Herbert said the campaign is timed with Spotify's expansion of its target user base beyond its initial early adopter outreach. Going live with new ads during the summer is also key to the streamer, which sees an uptick in usage around festivals, and notes that music is generally more top-of-mind during the warmer months.
The new Spotify campaign rolls out in full across Canada this week and will be in market until September. Spotify has 100 million users globally, but doesn't disclose numbers by region, according to a company spokesperson.
From Media in Canada