Beau's to launch brewery in Rwanda
The Ontario company will support the development of the craft brewery with its expertise and a crowdfunding campaign.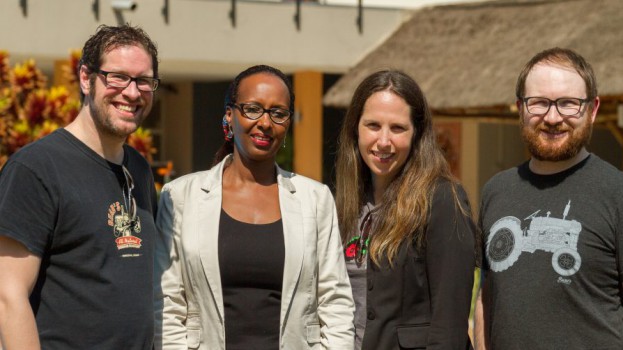 From left to right: Beau's co-founder and CEO Steve Beauchesne, Rwandan entrepreneur Fina Uwineza, Beau's CFO Tanya Beimers, Beau's Creative Director Jordan Bamforth.
Craft beer might be booming in North America, but Rwanda is a country that – despite its love for beer – has been reliant on products from global conglomerates. That could soon change, as Beau's All Natural Brewing Company is helping to launch a women-run craft brewery in the country.
Working with Toronto-based public affairs consultancy CG Group, the craft brewery will be working with Josephine "Fina" Uwineza, an entrepreneur and restaurateur in the country, to launch a brewery that is entirely owned and operated by locals. Beau's will be providing financing, employee training and business guidance to Uwineza and the staff of the Rwanda Craft Brewery, and also reached out to suppliers in the brewing business to supply the needed equipment.
British Columbia-based Newland Systems were one of those suppliers, and will be providing a brew house to the project. Christian Riemerschmid von der Heide, Newland Systems' COO, has experience brewing in Africa and will work with Beau's brewmaster Matthew O'Hara to develop a recipe that is a good fit for the Rwandan market.
Beau's has also launched a crowdfunding campaign and aims to raise the $95,000 needed to purchase a bottling line for the brewery, with rewards including merchandise from the Rwanada Craft Brewery, a plaque on-site at the brewery or VIP tours and meals of the Beau's brewery outside Ottawa.
Steve Beauchesne, co-founder and CEO of Beau's, say the plan is to utilize the social channels it has successfully used over the past 10 years to build its own profile to mobilize donations. Beau's also has a history of collaborating with other craft breweries and community groups, and Beauchesne hopes they will be inspired by the project and help get the word out.
Uwineza first pitched the idea to CG Group partner Nancy Coldham, who has worked extensively in Rwanda in support of female entrepreneurs. Rwanda is a country that was ravaged by wars and genocide in the latter half of the 20th century, and part of the country's effort to re-establish itself over the last decade have been investing in sustainable employment and business opportunities, especially those for women.
Coldham brought the project to the Ontario Craft Brewers Association, where Beauchesne sits on the board. When the organization was unable to take the project on itself, Beauchesne asked if his brewery could. He then travelled to Rwanda with CFO Tanya Beimers to meet Uwineza and local officials to lay the ground work for the project.
Beau's has supported community and not-for-profit groups of all sizes over its 10-year history, and Beauchesne has said he believes "beer tastes better" when you can feel good about the company that made it. He also says the brewery was looking for a project that had it making more of an impact on a global scale when the opportunity to work in Rwanda came about.
"It started hitting all the right boxes," he says. "To build a well in a community or do some other kind of humanitarian work is very valuable, but it doesn't speak to what we know how to do. This came to us, and we know how to make beer and start a brewery, so we can add so much expertise to this. If we were a construction company, building homes in Rwanda would make a lot of sense. But we're a brewery."
The other important factor in committing to the project was its wider impact and potential for long-term success. The brewery will be sourcing its ingredients from local grower co-ops, which not only means even more local job creation and economic growth, but the funding of things like education and health services for rural communities.
"If all it meant was one or a couple women in Rwanda get to be rich making craft beer, it would be missing something," Beauchesne says. "We want it to benefit a lot of people and communities, and for it to be sustainable into the future. [The Rwandan government has been] very much focused on hiring women because they've proved that lifts the entire community up and creates a better dynamic to life."
This project is the latest of the "10 amazing things" Beau's has committed to this year as a way to commemorate its 10th anniversary. Those have included expanding its distribution nationally for the first time and commencing an employee share buy-back program to give ownership of the company to its staff and keep it independent. Like opening a brewery in Rwanda, many of these initiatives have been things that are unexpected from a craft brewery to not only capture the minds of beer drinkers, but the employees that run the brewery.
"A big piece of it was trying to find a project that would really capture the imagination of our employees," Beauchesne says. "This is something that is really tangible that we can do. It's a bit audacious and crazy at the same time, and all of that makes it perfect for us."
Image courtesy Brendan Coutts.