Adidas focuses on performance
To launch the new Athletics apparel line, the brand provided a VIP experience centred on prepping athletes to play their best.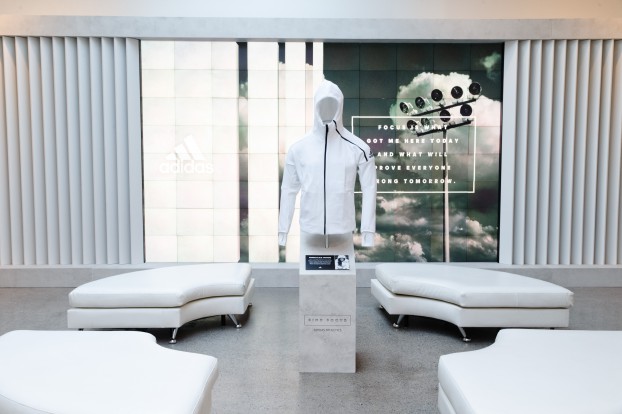 Adidas gave some of the best hockey players in the world a luxury experience at the Adidas Athletics VIP lounge to launch its new performance apparel line in Canada.
During the World Cup of Hockey in September, the lounge showcased pieces from the Athletics collection – particularly the Z.N.E. hoodie – and allowed guests to get haircuts, enjoy food from chef Andrew Muto, customize their apparel with patches from Toronto's Peace and Cotton, and play EA Sports' NHL 16 video game.
From here, activations at Adidas stores and select retail partners around the Athletics line are taking an approach that's visually similar to the lounge, with white displays centred on the Z.N.E. hoodie with the "Find Your Focus" messaging.
The lounge itself was targeted toward VIP guests, namely the athletes in town for the tournament. This is in line with the global "Find Your Focus" platform, which is positioning the Athletics line as apparel the world's top athletes wear to help them perform at the highest level.
Globally, Adidas Athletics is the largest launch the company has done for an apparel line. The World Cup of Hockey lounge followed a launch event in New York and partnerships with professional soccer teams like Juventus F.C. and Real Madrid, where players would wear the line before games.
Stewart Smith, VP of marketing at Adidas, says the timing with the World Cup was a perfect opportunity to bring a similar approach to its launch in the Canadian market, since all the best hockey players were in one place, facing their toughest competition.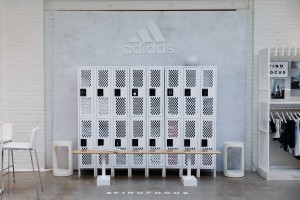 Some elements of the lounge were meant to help athletes prepare to perform, like chef Muto, who specializes in meals and refreshments for athletes. Smith adds that while things like the patches don't necessarily fit with the "Find Your Focus" platform, they were a slightly different way to allow people to customize their apparel, something that has previously resonated well with consumers.

Beginning with next year's 2017-18 season, Adidas will become the official outfitter for the NHL, supplying all jerseys and licensed apparel for the league and its teams. The brand was already the outfitter for the World Cup jerseys.

Smith says the lounge was also a platform to get ahead of the game and connect hockey players, who will be among Adidas' biggest advocates, with the brand before the partnership officially began.

In addition to the in-store displays, Adidas will also be promoting the Athletics line with social content featuring professional athletes from multiple sports, including hockey players like Sidney Crosby.

Photos courtesy of Jess Baumung