Nova Scotia talks birds, bees and consent
The government's sexual violence awareness play uses animation to reach young audiences.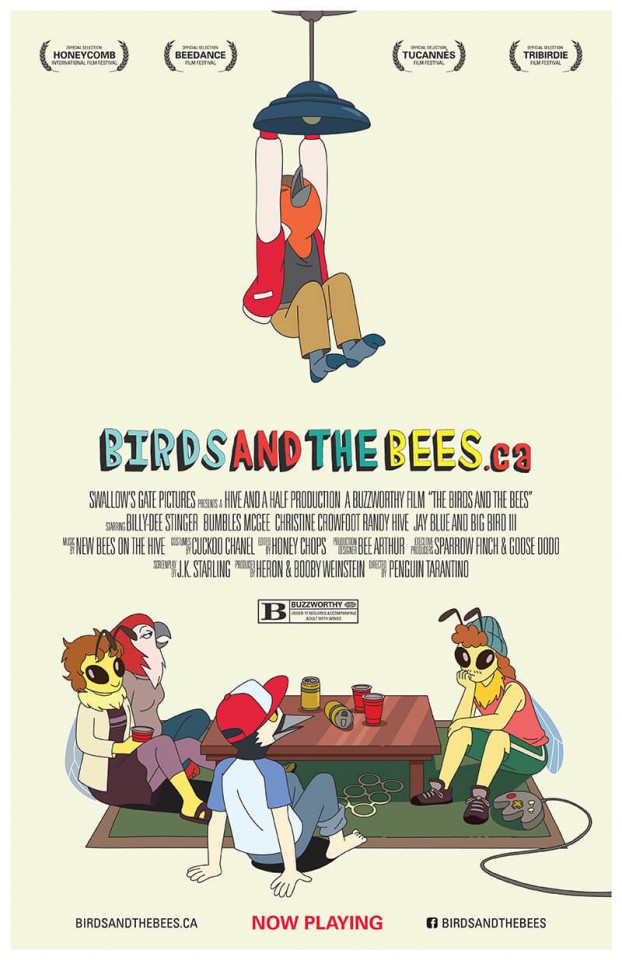 The Government of Nova Scotia is aiming to make talking about sexual violence a little easier with a new campaign targeting young audiences.
The awareness campaign kicked off with a 60-second video of a party scene, where friends stop sexual violence from occurring by educating their buddies (for example, one tells another that someone who's intoxicated can't consent to sexual activity).
It may sound typical for an awareness campaign, except for one catch – the party-goers are all animated, anthropomorphized birds and bees.
The awareness push is part of Nova Scotia's sexual violence prevention strategy, which began in 2014 and is focused in part on educating young people about what sexual violence actually is and what resources are available to help. As part of that, it's created a public awareness committee, as well as a training committee, made up of stakeholders in the general public.
Since the launch of the strategy, the government has been doing community engagement to find out what it could be doing better and settled on two important tasks: educating the public as to what constitutes sexual violence and talking more to young people, says Sarah Granke, specialist, sexual violence prevention and support for the government, who chairs both committees.
The campaign is mainly targeting high school students, though Granke says the material is engaging and educational for all ages.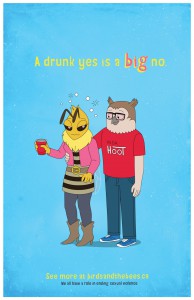 As part of its research ahead of the campaign, the government and its creative partner, Extreme Group in Halifax, spoke with people under 20 to get their thoughts on what the campaign should look like and what scenarios resonated most.

"One of the first things we did was show them a bunch of existing campaigns," Granke says. "The ones that they responded most positively to were the ones that used animation and the ones that had elements of humour."

While there's obviously a fine balance between humour and veering into not taking the issue seriously, Granke says she thinks the government has struck the right note.

Animation with the birds and bees characters (versus using real human actors) also allowed the campaign to avoid triggering survivors of sexual violence (by portraying situations that might hit too close to home) and allow the campaign to reach a wider audience by letting people imagine themselves in the situation, says Shawn King, president and CCO at Extreme Group.

It's also an attempt at breaking through the bombardment of content the target audience faces everyday (through research ahead of the campaign, Extreme found that animation like that in the series BoJack Horseman resonated with high school audiences in particular, King notes).

A 30-second follow-up video, centred on social media's role in sexual violence, will be debuting closer to the holiday season. More videos aren't yet set in stone, with the government waiting to gauge public response, but Granke notes the benefit of the animated, episodic format is that the campaign can respond to relevant topics that might make news.

The campaign is running as YouTube pre-roll, on Facebook and Instagram, in cinema and with posters distributed to schools and other organizations in the province. Copernicus Animation Studios led the animation for the videos, with Nova Scotia handling the media buy internally.

The overall campaign drives to a website, BreakTheSilenceNS.ca, which features various resources related to sexual violence, including pointing people in the right direction for where to go for help, and guiding them through what to expect of certain scenarios, like reporting to police and letting them know how to help a friend.

That's particularly important as many people shrug off the issue as something that isn't theirs to deal with, but many youth reach out to their peers before anyone else to disclose violence they've experienced, Granke says.