CNIB opens eyes to hiring the blind
The non-profit's first new TV spots since 2010 challenge misconceptions about employees with vision loss.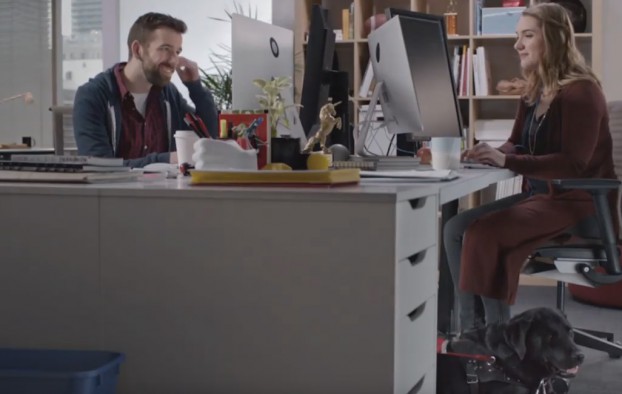 There are a wide range of challenges for people with complete or partial vision loss, but a new campaign from CNIB tackles one of the most difficult ones: misconceptions about blind employees' skills and talent at work.

In two new PSA spots, each with versions in English and French, the non-profit organization uses surprise endings to show how misconceptions that Canadians often have about blind workers aren't so accurate.

The "EmployAbility" PSAs are running through October, which is National Disability Employment Awareness month, on CBC, CTV and Slice. DDB handled creative and media.

CNIB used funding from a grant program through Economic and Social Development Canada to run the campaign, its first new PSA advertising on TV since 2010.

In recent years, its marketing and awareness efforts have focused more on issues like vision health and talking about the unique experiences of people who are blind, but this is CNIB's first concerted effort around employment issues, says Victoria Pearson, senior director, strategic planning and corporate communications at CNIB.

"Every time we ask [CNIB clients] where they would most like to move the needle, the issue of employment comes up," she says. "The inequity in employment rates between people who are blind or partially sighted and the rest of the Canadian community is pretty stark."

In fact, she says that 38% of blind or partially sighted Canadians are employed, compared with 73% of Canadians without a disability.

CNIB's research also suggests that 70% of Canadians would hire a sighted candidate over a blind one, even if their qualifications were equal. A third of Canadians also say they don't know how to interact appropriately with someone who is blind or partially sighted in the workplace and 18% believe, incorrectly, that their blind co-workers would need to be led around the workplace.

The campaign is seeking to change that by educating the public, and employers in a hiring position in particular, about how talented blind employees really are and that their lack of vision isn't as complicated or expensive for employers to deal with as they may assume.

Crucially, the PSAs all use actors who are really blind to play the roles of the workers with vision loss, to keep with its message about employing Canadians with vision loss and to allow for authenticity in the campaign, Pearson says.

Along with the PSAs, CNIB has a newly created section of its website dedicated to resources for employers (including myths about hiring workers with vision loss) and job seekers. It's supporting the campaign further with social media and PR activity, handled in-house.