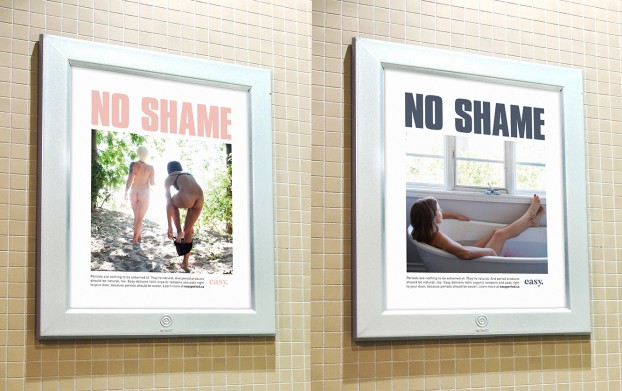 Tampon string showing? Who cares.
That's just one message behind the "No Shame" campaign from Easy, a new brand that offers a subscription tampon delivery service. Created by Cossette, "No Shame" is focused on eliminating the stubborn stigma that still comes with menstruation, featuring a couple changing sheets with a blood stain, two women skinny dipping (one with her tampon string visible), a couple spooning in bed with the woman clutching a hot water bottle and a woman who isn't letting her period stop her from having a soak in the tub.
Easy launched in June 2016, offering its subscription service across Canada and, more recently, into the U.S. Founder Alyssa Bertram says she initially wanted to create a service that would deliver well-known brands. But her own research into ingredients used in traditional tampons (such as synthetic fibres) prompted her to switch to organic products for her own use, and changed the focus of Easy.
Her research also delved into the challenges women in developing countries face when it comes to having their periods and proper access to feminine hygiene products, leading to a business model where 5% of proceeds are donated to the ZanaAfrica Foundation, which delivers pads and health education to Kenyan girls.
Easy mainly targets millennial women, especially those now making their own product decisions, outside of what they used as teens, which is often influenced by their moms' choices. It's also after those comfortable with buying through subscription services, she says. The idea is to be about more than just empowerment in product choice, with the brand also focused on conquering taboos that still prevail around periods, Bertram says.
The new "No Shame" ads will run in 100 locations in Toronto that are part of Newad's restobar network (including in both women's and men's washrooms) for the next four to eight weeks, with the creative potentially being leveraged elsewhere later.