Check it out: Sears calls you out
A fall campaign attempts to divert shoppers who cut through the store on their way to the mall.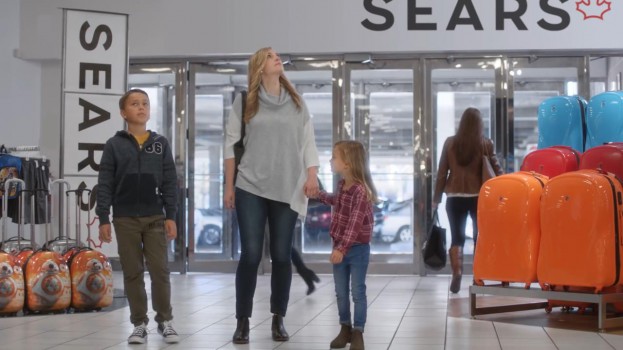 Sears Canada knows that many Canadians only step into its locations because they're between the parking lot and the stores they really want to get to, and its new campaign is calling those people out.

In a series of spots created for its fall TV campaign, the voice over the PA system puts a twist on the traditional "attention Sears shoppers" call, directly acknowledging that many of the people listening are simply cutting through the store on their way to a movie or another part of the mall. In each video, the announcer tries to draw their attention to the products and deals they are missing out on, from fashion to kitchenware to appliances.

The spots were created by Baltimore's TB&C, which was named Sears Canada's agency of record earlier this year. MediaCom handled the buy, which has the spots airing nationally across conventional and specialty networks targeted at a younger shopper (30-45) until the end of the month. The campaign is also supported by a pre-roll buy on YouTube.

Besides being a slightly cheeky creative insight, Sears Canada is aware that often being a place shoppers simply pass through on their way to the mall entrance is a major business challenge it needs to address as it attempts to reverse multiple quarters of losses. A major part of its planned reinvention has been taking a critical look at its store layouts and merchandising so it can better capture the attention of shoppers as they walk by, including a new, recently-debuted store concept, which is featured in the videos.