BMO dusts off its Ball-Star for Raptors' return
The bank has a new campaign starring the talking ball it created for last year's all-star game.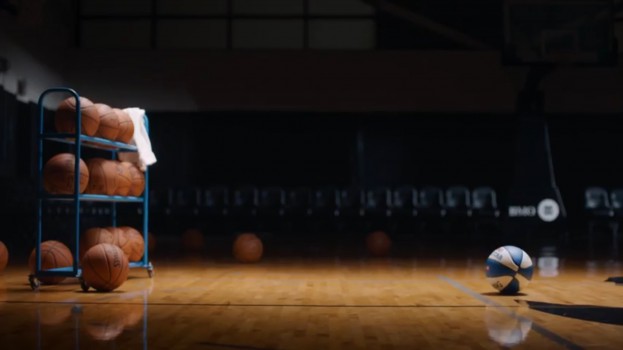 The Toronto Raptors returned to the Air Canada Centre court last night, and BMO's Ball-Star was right there with them. The bank launched a follow-up campaign to the series developed last season with FCB Toronto, featuring a charismatic basketball with behind-the-scenes access.

The three new spots are built around the premise of giving fans a "Ball Access Pass" to the Raptors season. In the "Bounce Back" ad, which aired in a 60-second format during last night's opener, the ball takes fans through highlights of the Raptors' deep but tumultuous playoff run last season, repeating a "We bounce back" mantra. When the speech and highlight reel end, we realize the Ball-Star has been giving a pep talk to an unmoved rack of basketballs.

The Ball-Star was developed in a campaign that rolled out in February, when Toronto hosted the NBA All-Star Game, but the series continued with new spots later in the season. While the idea was created for All-Star Weekend, it's been able to evolve as part of BMO's bigger strategy of using sponsorships to understand the fans' voice and engage on those terms, says Jennifer Carli, managing director of North American brand, advertising and market research at BMO Financial Group.

"Every sports property has something about it that makes it special, every fan base has something that makes it unique," she says. For the Raptors fans, it's their swagger, and Ball-Star is the ambassador to leverage that, she says.

For its sponsorship of Toronto FC, the brand highlights that fan base's camaraderie.

At the start of last season, the bank's basketball advertising had a more serious tone but it shifted with the Ball-Star campaign to better fit with the "BMO Effect" creative platform, showing a more "irreverent" and "human" side, Carli says.

The all-access side of this year's campaign gives BMO customers access to on-site perks such as seat upgrades, concession vouchers and meet-and-greets.

In addition to the three spots launched yesterday – the 60-second as well as two 20-second ads, also themed around a new season – BMO is filming a new ad with star guard Kyle Lowry that will be released later this year.

FCB is handling creative for the campaign and Maxus is on media. The "Bounce Back" spot will run on social and on TV, including Sportsnet, TSN and NBA TV, while "Crunch Time" and "Headphones" ran on TV during the season opener and will be on social over the next few weeks.