As the inaugural Strategy Awards approach, we're showing some of the shortlisted work by category. The awards will be handed out Nov. 8 as part of our Agency of the Year gala in Toronto. And in case you missed it, check out Part 1 of the shortlist series.
The Media's Big Food Drive changes the face of poverty
Gold – Connection Strategy
La grande guignolée des médias (The Media's Big Food Drive) brings together members of the media industry from across Quebec for a moment of solidarity in December.
Thousands of media professionals and volunteers get together to collect non-perishable items and cash donations to support food aid organizations. The difficult socio-economic landscape over the last few years has increased poverty and reduced donations. The Centre d'étude sur la pauvreté et l'exclusion (Centre for poverty and social exclusion studies) found that poverty in Quebec has been rising since the 2008 financial crisis.
"The new poor" are families with low income and insufficient funds to meet housing and food needs but do not necessarily live on the street. To stand out amongst the other 46,000 charitable organizations in Quebec, La grande guignolée des médias and TAM-TAM\TBWA needed to address this new phenomenon of poverty in a realistic way.
In a television spot, the team decided to show the new face of poverty as it is. A hyper-real docu-drama put a spotlight on a Quebec family in a difficult situation. The film shows a single mother who loses her job, struggles to make ends meet and is finally confronted with housing and food problems. The spot shows how poverty can happen to anyone and a lot faster than many think. It was narrated by someone who has experienced and bears witness to this new reality.
The campaign also included OOH, print, social media videos and radio spots. The team posted a fake ad on Kijiji, showcasing an almost new car, on sale for a ridiculously low price. Callers were left with a message about how the car owner has to sell the vehicle to make ends meet after losing her job. At the end of the recording, people were invited to make a donation over the phone.
The stunt went beyond Kijiji, generating awareness and endorsements from celebrities and media. More importantly, there was an increase of $600,000 in donations (35% more than the year prior), the highest amount in the organization's history.
Credits
Advertiser | La grande guignolée des médias
Agency | TAM-TAM\TBWA
Strategic planning director | Simon Lusinchi
CD | Manuel Ferrarini
AD | Anne-Marie Lemay
CWs | Sarah-Catherine Lacroix, Étienne Soucy
Account director | Josée Canuel
Account executive: Sandra Dagenais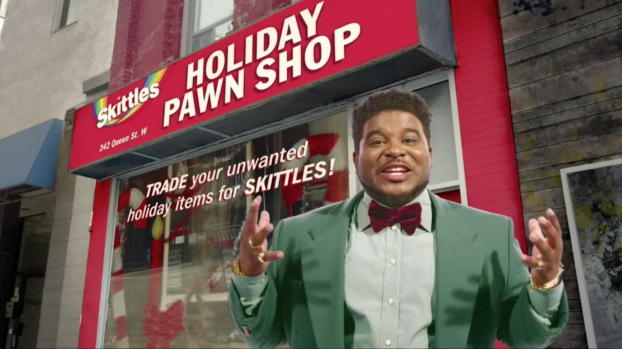 One man's trash is another man's Skittles
Gold – Connection Strategy
The holidays can be a challenging time for any brand (much less a candy brand) to stand out. With candy canes, gumdrops and marshmallow Santas filling the shelves of every store, Skittles is upstaged by other sweets.
To drive sales over the holidays, the brand needed an idea that could not only compete against other candy, but also cut through the clutter of holiday advertising. The main objective was to increase Skittles' brand share by 2% during the most competitive time of year.
Working with BBDO, the brand found a universal insight: while people love the holidays, there is one thing they don't love – getting an awful gift they'll never use. Research shows that nearly 75% of Canadians have been disappointed by a bad holiday gift at one point in their lives.
Based on this insight, the agency gave Canadians the opportunity to trade those unwanted gifts for something they did want: Skittles.
The insight led to the creation of a Skittles Holiday Pawn Shop, designed to generate social engagement and buzz for the brand. The campaign twisted the classic pawn shop by using Skittles as currency – an idea that aligned perfectly with the brand's strategic positioning as an object of desire.
BBDO created a parody video of the typical low-budget pawn shop ad featuring Dale (Skittles' very own dealmaker) on 15 December, 2015. The video was supported with an interactive website, print, social posts and PR.
The website (Skittlespawn.ca) allowed consumers to engage with the brand online and upload images of the items they wanted to exchange for Skittles. Real time "appraisers" would instantly provide a certificate that could be redeemed for candy at the Skittles Holiday Pawn Shop. For those unable to make it to the shop, the appraisal certificate gave them $2 off a bag of Skittles anywhere in Canada.
On Boxing Day, the brand opened the pawn shop. In addition to daily social posts, it partnered with YouTube influencer and Skittles fan, Lilly Singh, who visited the store and drove a major spike in traffic.
Over five days, more than 52,000 bags of the candy were exchanged for unwanted gifts.
Sales increased 4%, doubling the target. There were also 98.8 million earned media impressions (394% over target), with coverage on CTV, CBC, City, CP24 and Global. The shop saw 2,700 visitors (317% over target), and the brand tracked nearly 16,000 website submissions (85% over target), 51,800 site visits (20% over target), 4.4 million video views and 503,000 total engagements.
What's more, consumers from around the world have asked the Skittles Holiday Pawn Shop to come to their city.
Credits
Advertiser | Skittles
Agency | BBDO
SVP, ECDs | Todd Mackie, Denise Rossetto
VP, Associate CDs | Chris Booth, Joel Pylypiw
Senior AD | Mike Schonberger
Senior CW | Matt Hubbard
Agency producer | Terry Kavanagh
VP, group account director | Kristina Hayes
Account director | Saloni Wadehra
Account executive | Zach Kula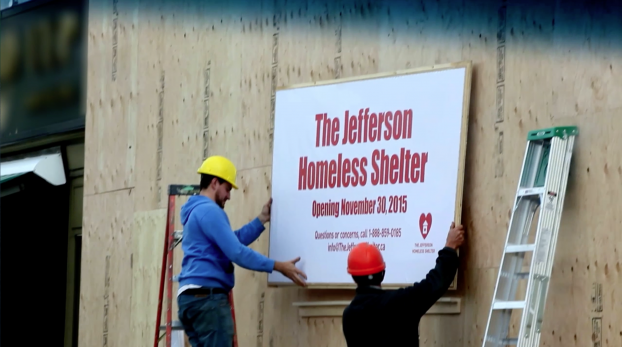 Raising the Roof's faux shelter causes a frenzy
Silver – Connection Strategy
Silver – Evolution Strategy: Keeping it Fresh
Bronze – Game Changer
A staggering 235,000 Canadians experience homelessness every year. Raising the Roof, a non-profit supporting those without homes, needed to show people that short-term solutions (such as homeless shelters) are not the answer. Instead, the focus should be on long-term measures (including changes to government policy) that put an end to homelessness for good.
The organization and Leo Burnett decided to connect people to the problem in a new way. The team created a clever hoax that forced people to experience the negative side of short-term solutions to homelessness for themselves.
The idea was born out NIMBYism: the notion of "Not In My Back Yard."
The agency found a property for lease in an affluent area (and one of the last places anybody would expect to see a homeless shelter) in Toronto and covered it with a plywood façade. It featured a sign announcing a homeless shelter was coming soon and encouraged people to contact the shelter for more information. It created an immediate uproar among those who saw it as a long-term problem for the community. People called in and left messages saying they did not want a shelter in their "backyard."
Within hours, the team revealed that Raising the Roof didn't want a shelter in their backyard either, with a sign that read: "You told us you don't want a shelter here. Neither do we. Support us in creating long-term solutions. Let's end homelessness."
The "hoax" caused a media frenzy that saw the issue covered by every major Toronto news outlet, as well as other parts of the world. The result was an estimated 7.7 million unique impressions with zero dollars invested in media. The video earned 52,000 views and donations to Raising the Roof increased 506% versus the previous year.
Credits
Advertiser | Raising the Roof
Agency | Leo Burnett Toronto
Chief strategy officer | Brent Nelsen
CCO | Judy John
Group CDs | Anthony  Chelvanathan, Steve Persico
CW | StevePersico
AD | Anthony  Chelvanathan
Executive producer | Franca Piacente
Group account director | Natasha Dagenais
Account supervisor | Kayla Osmond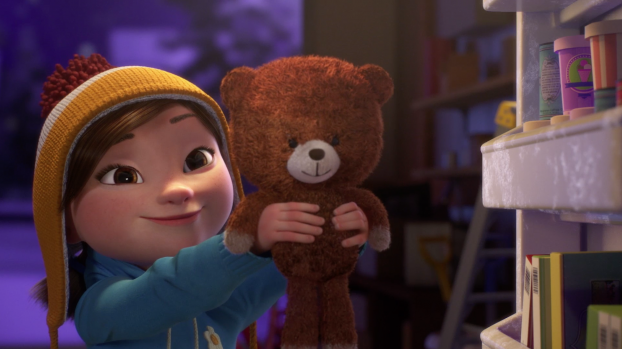 Cineplex prioritizes pleasure
Silver – Connection Strategy
Cineplex faced a fundamental challenge: the entertainment company had strong functional awareness, but it was surprisingly weak on brand affinity. It needed to build an emotional connection with consumers and stand for something beyond its utility as a movie screener.
All the stress that comes from keeping up with the demands of life leaves little room for fun. Cineplex set out to remind Canadians of the joy that comes from watching a movie together.
Zulu Alpha Kilo used the power of storytelling to create a short film that was as entertaining as the films that Cineplex plays on its screens. "Lily and the Snowman" is an animated, two-­minute film about a young woman and her magical snowman, which encourages viewers to "make time for what you love."
Cineplex released online trailers and in-­theatre movie posters prior to its release. A blogger outreach program helped seed the film via editorial-style, curated blog posts and organic peer-­to-­peer sharing. The film's in-theatre debut was timed to coincide with the new Star Wars film, playing before the feature presentation. In addition, the film and a "making of" video were shared on social.
In the first 12 days, with an online media budget of only $150,000, the video received 21.8 million views and over 300,000 shares on Facebook and YouTube, while surpassing objectives for visits to Cineplex.com by over 300%. The film has exceeded 30 million views and Cineplex's brand tracking shows a 37.5% increase in brand affinity. Its success contributed to a record month for Cineplex.
Credits

Advertiser | Cineplex
Agency | Zulu Alpha Kilo
Strategic planner | Ebrahim El Kalza
CCO | Zak Mroueh
ECD | Allen Oke
Associate CDs | Noel Fenn, Andrew Caie
AD | Guilherme Bermejo
Writer | Nick Doerr