Johnsonville debuts refreshed branding
The company's global rebranding effort launches in Canada with a revamped logo and packaging.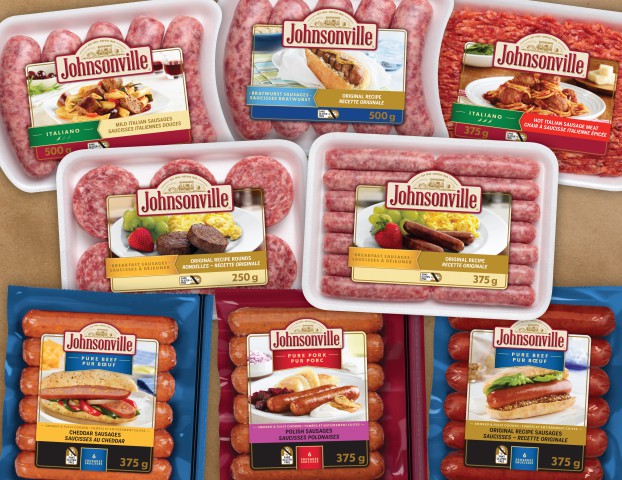 Johnsonville has launched a new brand identity, which is being utilized in new packaging for its full range of products.

The new logo, adapted for the Canadian market by Montreal design agency Braque, does away with the white text on maroon backdrop in favour of lighter colours. The small-town silhouette on the top of the logo has been replaced by a single butcher shop, reflecting how the company was founded in 1945.

The new packaging, with labels also handled by Braque, also segments Johnsonville's 32 different product lines into six categories:  Ready-to-Eat Pork, Ready-to-Eat Beef, Breakfast, Italian, Bratwurst and Country Style, each signified by a different colour.

The new logo and packaging is part of a global refresh that will be rolling out to more markets next year. All markets will be using a similar logo, though the tagline will be adapted and presented in the country's official language.

This is the first time the company has changed its branding since the 1990s – before the brand launched in Canada 16 years ago. Jackie Hendricks, associate brand manager for international marketing at Johnsonville, says the new branding is meant to reflect the company's heritage, an important part of its global brand positioning, but in a more contemporary way.

"There was a desire to come up with something that felt a little fresher than our current logo, because we're trying to connect with younger consumers with a lot more effort," Hendricks says. "We wanted it to be relevant to our roots as a company, so it looks a bit more vintage, but in a modern way, something the bold, black and maroon colours in our old logo weren't conveying."

Besides being a contemporary design, Hendricks says tying the brand to its roots helps Johnsonville's packaging reflect the same message it's giving consumers as part of its global communications strategy.

"That butcher shop is how we started as a company, which is so central to who we are," she says. "Not many other brands can say they've been around this long and have people with this level of expertise."

Johnsonville has used a colour-coded system on its packaging before, but Hendricks says there was little organization to it or thought given to segmentation. She says the branding overhaul presented an opportunity to take a new approach and make the differences in the products easily recognizable on a store shelf. On top of that, the product shots on the packages show different meals and recipes for sausages to encourage consumers to think about the product as fit for more than just a bun, she says.