Ronald McDonald House has your number
Family connection is at the heart of the charity's social giving campaign.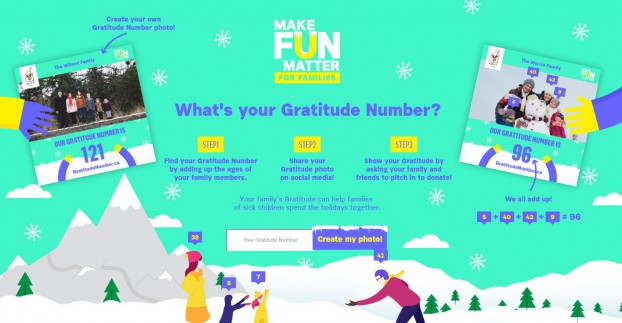 The holidays can lead to some hectic moments at the mall, but Ronald McDonald House Charities Canada is arguing that Canadian kids might not care about the latest toy or gadget as much as we might think.
The organization has debuted a new giving campaign in the lead-up to Christmas, called "Gratitude Number." Canadians can visit a microsite online to input their specific number – the sum of all their family members' ages. They can then upload a family photo with their number to share with their social networks, with the idea that they could also donate or fundraise that specific dollar amount for RMHC.
The latest campaign falls under RMHC's "Make Fun Matter" social giving platform, created last summer to encourage Canadians to turn activities they already enjoy doing into their own individual fundraising campaigns. The platform has been growing incrementally, with RMHC seeing an opportunity to use the idea seasonally and around certain occasions, says Cathy Loblaw, president and CEO of RMHC Canada.
The "Gratitude Number" idea was specifically inspired in part by research that suggested kids and teens are actually more interested in spending quality time with family and that those who do are typically more satisfied with their family life.
It's #GivingTuesday! Find your family's #GratitudeNumber and help families with sick kids spend the holidays together at RMHC pic.twitter.com/PEi3JrHKpy

— RMHC Canada (@RMHCCanada) November 29, 2016
RMHC partnered with Leger to poll just over 1,500 consumers, finding that teens cited spending more time together (18%) while parents wanted more financial security (20%) when asked about how their lives could be improved.

Parents and children also agreed that eating meals, watching TV or a movie and going on vacation together were the top ways to connect with one another.

Those insights around connection sparked the idea of adding family members' ages for their "Gratitude Number," Loblaw says.

RMHC, which serves families whose sick children are being treated in hospitals not close to their own homes, has grown significantly in Canada since 2010, from 12 houses to 15 and going from serving around 8,900 families per year to 30,000. It also operates 15 family rooms, or mini-houses located within the medical facilities where sick children are being treated.

With medical advancements and opportunities for treatment growing, more families are having their children treated in specialized facilities that are often not close to home, leading to their need for a place to stay, she says.

With that growth in families served, costs have also risen dramatically, with the organization now requiring $26.2 million to operate, from just $5.6 million in 2010. Last year, 2,282 families had to be turned away because of lack of accommodation.

Launched on Nov. 29, also known as "Giving Tuesday," (following the massive shopping events of Black Friday and Cyber Monday), the "Gratitude Number" is being pushed through paid social media. The campaign was led by Montreal agency N/A, with Cossette leading the microsite development, OMD on media and Weber Shandwick on PR and influencer relations.