New PSA campaign tackles growing Islamophobia
A group of Ontario organizations call on bystanders to "Break the Behaviour."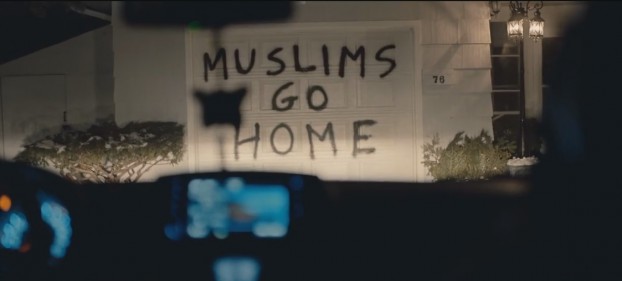 "What do you call a Muslim flying a plane?"

It's the beginning of a "joke" that's sure to have an offensive punchline. But in a scenario crafted by a group of Ontario organizations, a teenage boy shuts it down with a different answer.

The group, led by OCASI (Ontario Council of Agencies Serving Immigrants), is taking on hatred and Islamophobia specifically with a new campaign that challenges bystanders to stand up for what they know is right (and stop behaviour they know is wrong).

OCASI has teamed up on the initiatives with the Canadian Arab Institute, the National Council of Canadian Muslims and the Ontario Human Rights Commission.

Working with agency Mass Minority, the campaign is centred on the theme "Break the Behaviour," and the need for communities and individuals speak out against hatred and racism.

Along with the influx of Syrian refugees over the past year has also come rising Islamophobia, with Muslims – and those thought to be Muslims – being targeted, says Debbie Douglas, executive director at OCASI. She points to the arson at a mosque in Peterborough, Ont., a woman wearing a hijab being attacked in London and white supremacist posters being put up in a Toronto neighbourhood as just a few examples of the targeting of Muslims and other non-white people.

However, with those examples of violence also came communities rallying against racism (such as working together to rebuild the Peterborough mosque), Douglas says. The importance of those kinds of actions are what OCASI and its partners are trying to convey with the new campaign.

In one PSA, a class clown is getting attention from others for racist jokes, until another boy steps up and stops him from delivering an offensive punchline.

A second spot features a family wrapping up a day at an ice-skating rink, only to arrive home to find "Muslims go home" painted on their garage door. Though undoubtedly a heart-wrenching moment, neighbours arrive to help clean the message off the door.

The campaign, running on TV and social media, drives to a "Break the Behaviour" website, where visitors can sign a pledge to reject Islamophobia.

Though one of the PSAs does feature young Canadians, the campaign is targeting a very broad audience, Douglas says.

Though many Canadians have been welcoming of Syrian refugees in particular, OCASI and its partners note that Muslims in Canada have experienced a doubling in hate crimes over a three-year period. Forum Research also reported back in December that Muslims are most likely to face unfavourable feelings by Canadian adults, versus other minority groups.