Sonnet keeps its head in the clouds
A balloon narrowly avoids disaster in the insurance brand's latest take on staying optimistic.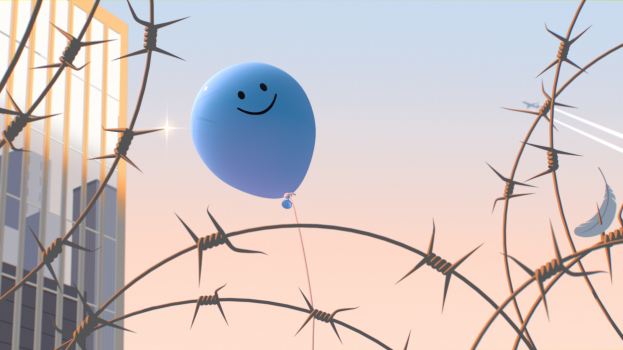 Digital insurance brand Sonnet has debuted another attempt at trying to keep Canadians optimistic.
The brand's launch campaign in the fall was noted for TV spots that were narrated by Michael J. Fox, with an inspirational message of the kinds of great achievements a little optimism can lead to. At the time, the company said it had six additional spots planned, handled by different directors to give each ad a different perspective on the concept of optimism. And the latest in that series has launched in the Canadian market.
Directed by Smith and Foulkes from London's Nexus Studios (which has been behind the camera for Lions-winning spots for brands including Honda, Coca-Cola and Slack, as well as the Oscar-nominated short This Way Up), the new spot takes the brand's "What's the best that can happen?" tagline and turns it into a cheery jingle. While it plays, a smiling balloon floats through dozens of situations that would seem to spell its doom, like dodging scissors in a busy barber's shop, getting stuck in a door and narrowly avoiding barbed wire. But the balloon keeps smiling throughout, before eventually reuniting with all of his balloon friends.
Johannes Leonardo, based in New York, is once again the creative agency behind the campaign. The new spot appears to take inspiration from the out-of-home ads that came with Sonnet's launch, which included stress-inducing situations like a porcupine sitting on an inflatable pool raft, a man hugging a tiger and a young child sitting on a bench suspended by balloons.