Hotels.com rewards the winter weary
A virtual swear jar provides Canadians disgruntled by winter weather a chance for escape.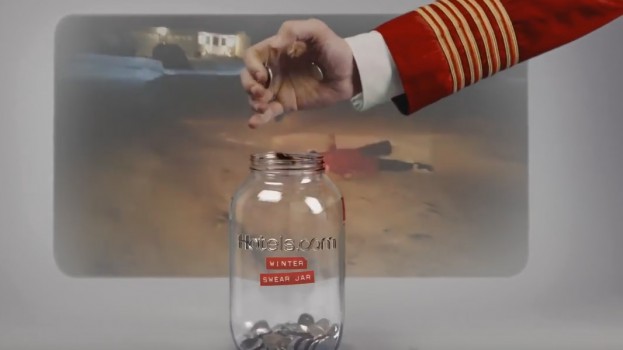 Hotels.com is hunting for "FUs," hoping to turn Canadians' curse-laden winter frustrations into something a bit sunnier.

The brand, which launched its first unique Canadian campaign last year, has debuted a new social media campaign targeting disgruntled Canadians in the throes of winter blues.

The brand will seek out negative tweets about winter and respond, with those frustrated Canadians being directed to a virtual swear jar that fills up the more people complain about the cold and slush (a "quarter" for each negative tweet). Every time the jar is filled with virtual change (with a hand from brand spokesperson Captain Obvious), one complaining consumer will win a Hotels.com gift card for $1,000 to plan their winter escape.

The idea behind the "Winter Swear Jar" was driven by social listening and aims to tap into winter angst in a culturally relevant way, according to the brand.

Hotels.com is after a broad Canadian target – anyone with an itch to travel. "Our goal is to reach a significant number of people not only talking about or cursing about the weather, but also those just genuinely frustrated with the season. We plan to measure the shift in brand sentiment over the course of the campaign to understand the impact we made making people more aware of the brand's presence in the Canadian market."

The campaign is being supported through pre-roll video, promoted tweets, paid Facebook support and an influencer program. The brand worked with J. Walter Thompson Canada on creative and strategy, MEC on media and Hill + Knowlton Strategies on PR.