The Quickfire with Hilary Zaharko
H&R Block's VP marketing tackles nine burning questions about her experiences, advice and snack choices.
Think you have a lot to do at tax time? Hilary Zaharko has a whole country to talk to. H&R Block's vice president of marketing has the unenviable task of reaching out when many consumers would rather hide under a rock than think about filing. However, with her latest campaign now in market, she's got a bit (just a bit) more time to tackle strategy's Quickfire Questions.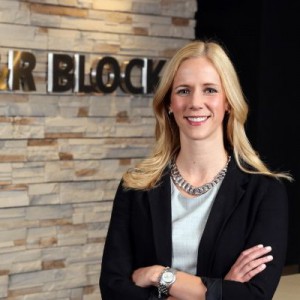 If you were given a six-month sabbatical to become an expert on any marketing skill to help your organization succeed, what would you learn about?
I'd test what sponsored posts perform the best – I'd do a couple hundred different versions. I feel like that's an ever shifting marketing message.

Who would be the perfect celebrity spokesperson for your brand – real or fictional, dead or alive?
Not a celebrity, but our founder Henry & Richard Bloch would be pretty great. Henry is still alive but is in his 90s.

What brand (other than your own) do you feel is punching above its weight right now?
Emerging industries in the sharing economy such as Airbnb are doing well. I also think Spotify has been doing some interesting stuff by analyzing some of their users and using that data in their ads.

Most recent song you listened to on your headphones?
I just discovered Anderson .Paak, so that's been on rotation.

If you could go back in time five years and give yourself advice, what would you say?
Just because it's not in your job description doesn't mean it can't be your responsibility.

One full-service agency or a group of niche specialists? Why?
I have to say Sid Lee! We recently did a massive agency search and they're the ones we chose.

Also… M&Ms or Smarties? Defend your choice!
Smarties. It's Canadian and the chocolate-to-candy ratio is perfect (M&M's are too puffy with chocolate).

If you could grab a drink with anyone in the industry, who would it be and why?
Hmmm… Arlene Dickinson. I bet she has great stories.

What business achievement are you most proud of?
As cheesy as it sounds, I don't know if it's the business achievements as much as it's the achievements of the people I work with. Seeing someone take on new challenges, grow in their decision making, and grow in their career is infinitely more rewarding.