Tech in Action: Doritos' tape deck chip bag
The brand embeds a music player into its bag so you can listen to the Guardians of the Galaxy soundtrack.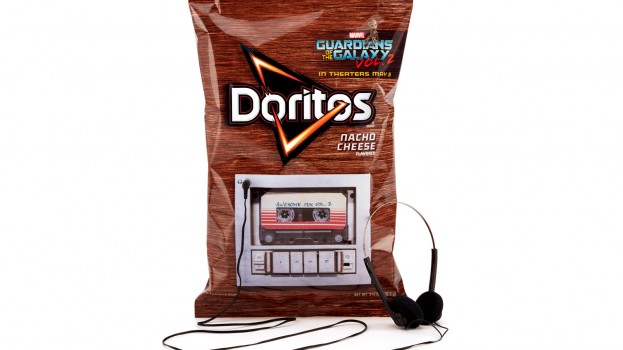 Doritos is helping Marvel promote Guardians of the Galaxy Vol. 2 ahead of its release in theatres next week by putting the music from the film into specially designed chip bags.

In a collaboration between PepsiCo's Frito-Lay division, its consumer engagement agency The Marketing Arm and Marvel Entertainment, a limited number of special edition Doritos bags feature an image of a retro tape deck like the one used by Chris Pratt's Starlord character in the sci-fi action film's first installment.

But that tape deck is not just for show. By plugging headphones into the working jack on the front of the bag, users can listen to the film's entire 14-song soundtrack, which features artists from the '60s and '70s including Fleetwood Mac, Cheap Trick and David Hasselhoff. The bags are also rechargeable for repeat listens for those who'd prefer to carry an empty Doritos bag around instead of getting a Spotify membership..

"Marvel and Doritos have had such a good relationship through the years," said Mindy Hamilton, SVP of global partnerships at Marvel Entertainment, in a press release. "We have a very similar set of core fans, so we wanted to maximize availability of this soundtrack by making it as accessible in a unique way that only Doritos and Marvel could do."

The bags will be available exclusively through Amazon on April 28, while supplies last. Influencers have also been sent a bag and encouraged to create content that features them signing a song from the soundtrack in an unexpected place.

Frito-Lay is no stranger to using its chip bags as media to get tech into the hands of its customers. For the Super Bowl, Doritos sister brand Tostitos embedded a sensor into its bags that could detect the presence of alcohol on someone's breath, acting as a mini-breathalyzer and turning red if it sensed someone had been drinking.