Retail Innovator of the Year: Sephora
How Canadian investments led the global beauty giant to win over a devoted community.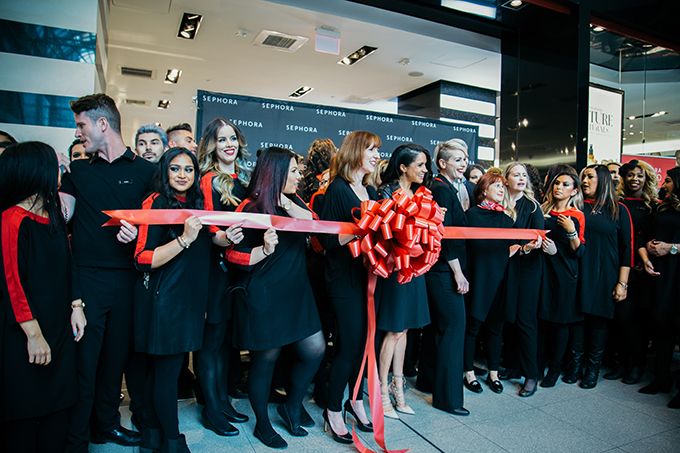 This article appears in the May 2017 issue of strategy.
It's been a year of makeovers for Sephora in Canada.
In 2016, the global beauty retailer (with 2,300 stores in 33 countries) kicked off its "Toronto Takeover" campaign and aggressive revamp and digitization of stores across the city. It was a major undertaking, involving renovations at four locations, opening four new ones and blanketing the area with its black and white trademark, inviting consumers to "Beauty Together" with the brand.
Sephora has pulled off market intensifications around the world "but not to the degree and the impact that we saw [in Toronto]," says Deborah Neff, Sephora's VP of marketing in Canada.
Neff herself is among the retailer's investments here, joining as its first Canadian VP marketing in February 2016. Previously, marketing had reported into the merchandising team, but now the former Revlon and General Mills executive has been working on building out the department, roughly doubling it in size to 15 people across communications and social media, events and integrated marketing (marketing for Sephora.ca, meanwhile, is led out of San Francisco).
As the team has grown, so has the retailer's footprint in the GTA, where it now has 14 of its 61 stores in Canada. Last spring and summer, as its new stores opened – including its largest location in North America in midtown Toronto – the Sephora brand was omnipresent, dominating the area with out-of-home takeovers, surprise activations, pop-ups at festivals and in-store appearances from beauty brand founders and influencers. It even took to the streets on Sephora Beauty Bikes, offering custom consultations on-the-go.
It was a highly localized strategy, bringing some of Sephora's global omnichannel concepts to life in Canada. According to the brand, it holds the top position among prestige beauty retailers, which includes department stores and other vendors of specialized products typically not found in drug stores.
Among the changes to its physical stores, Sephora has moved its Beauty Studios – areas dedicated to customers getting staff expertise and perks like complimentary makeovers – to the front of store. Toronto's overhauled Yorkdale Shopping Centre store now includes an area for up to 10 customers to have group beauty classes, gain access to self-guided tutorials on iPad stations or use "The Beauty Board," the retailer's shoppable gallery on a digital screen of user-generated content. Personal stations also have their own iPads, USB ports and Wi-Fi access, allowing customers to browse and share looks on the digital screen and online.

It's all part of the retailer's "Teach, Inspire, Play" – or TIP – philosophy. Sephora has long been a proponent of the open-sell environment – having customers try on and interact with products as much as possible.

The prestige beauty category can be intimidating for some and the brand's open-sell philosophy aims to break down barriers for shoppers and allow them to feel comfortable, Neff says. The retailer carries more than 15,000 products from 230 brands, including its own private label.

"The majority of our new client acquisition comes through the bricks-and-mortar before they turn omnichannel," Neff says. "Our experience and what we provide to the clients, there's nothing like that. It's only something you can really feel if you visit a store."

Even outside the TIP concept stores, digital is woven into the retail experience at every turn. For example, its Beauty Studio set-ups include Sephora + Pantone IQ touchscreens, offering the retailer's Color IQ service, a tool that analyzes the surface of a customer's skin to offer specific recommendations.

On the e-commerce side, Sephora's improvements in Canada began in 2014, when it opened its first Canadian distribution centre – a 26,012 square metre space employing 82 people. The following year, the brand eliminated import duties. Other improvements include gift card redemption and a way to personalize gift cards with customers' favourite photos.

Digital innovation is a major priority for Sephora at the global level, Neff says. The retailer has a team in its San Francisco innovation lab constantly working to bring new solutions to its stores, website and mobile app.

Over the past year, that's included the launch of Sephora Virtual Artist. Using a smartphone's camera and tech developed by ModiFace, the tool maps a user's face and allows them to virtually try on every lip colour and gloss sold through Sephora using augmented reality and accounting for skin tone. The tool was later expanded to allow users to try on false eyelashes.

In the first three months in North America, the Virtual Artist grew to 3.4 million visits and 753,000 basket items. Sephora also launched Pocket Hair Stylist, a video tutorial for specific hair types, followed by product recommendations.

That ability to build a one-to-one relationship with customers and personalized experiences at a large scale is what made Sephora stand out as a Retail Innovator of the Year, says Jo-Ann Munro, CD at McCann Montreal and one of the SIA jurors.

More than that, it's been able to make purchases from within those experiences seamless, she says. With Virtual Artist, for example, each colour or eyelash style "tried on" will have an "add" button, allowing for quick and easy purchase.

"The way the tech complements the in-store experience, it's all really, really well thought out," Munro says. "They're using the right technologies at the right time and they'll be the ones onto the next technology while everyone else is playing catch-up."

Its level of community – reaching cult-like obsession for some – is what retailers strive for, and something Sephora has been cultivating for years, she adds.

For example, take its "Sephojis" – customized emojis introduced last year. Available through a free customizable keyboard, the initiative included 56 designs that could be personalized by hair colour, skin tone and makeup shade by entering Color IQ information, allowing its customers to send personalized emojis that look like themselves, along with other designs inspired by the brand's passion for beauty (think a "Crying Mascara Girl" emoji).

"To me, what it really comes down to is the personalization, the one-to-one," Munro says. "It's not a brand talking at you, it's a brand going along with you."