The future of shopping: Trimming the (packaging) fat
In part three of our series, we look at brands conquering waste with new formats.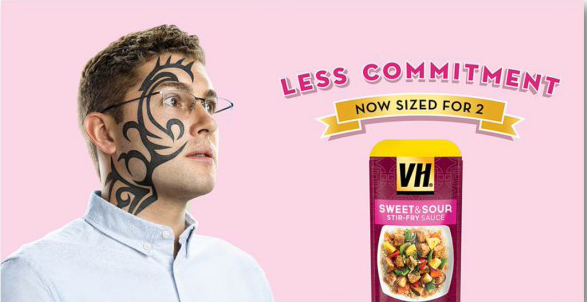 This article appears in the May 2017 issue of strategy.
The single household is multiplying. So is the online shopper's appetite. Personalization is essential to getting consumers off the couch and into the store, as are tailored experiences. Friction is to be avoided at all costs.
Even though trends in retail have become clearer, there's no definitive response. Brands facing changing demographics and consumption habits are playing with product formats and in-store experiences, as well as testing supply chain and delivery innovations. Many are trying to duplicate the ease of online shopping in the physical retail world through easier payments and custom service.
Our five-part shopper report takes you through the trends and strategic approaches (in Canada and around the world) that brands are adopting as they try to catch up with the future shopper. Read part one here and part two here and check back throughout this week for more on the future of shopping.
ConAgra is taking on a source of 21st-century shame: the "bottle graveyard," as senior brand manager for grocery Ryan Fowler puts it. "You open any millennial's fridge and you're going to see 20 bottles of half-opened sauces."
Consumers are growing more sensitive to waste – both food they don't eat before it expires and the packaging it comes in – creating opportunities for brands to develop smaller product formats with less packaging. More consumers have a stronger sense of social and environmental responsibility, rejecting "throw-away culture" and adopting elements of the sharing economy and a more minimalist lifestyle, says Joel Gregoire, senior food and drink analyst at Mintel.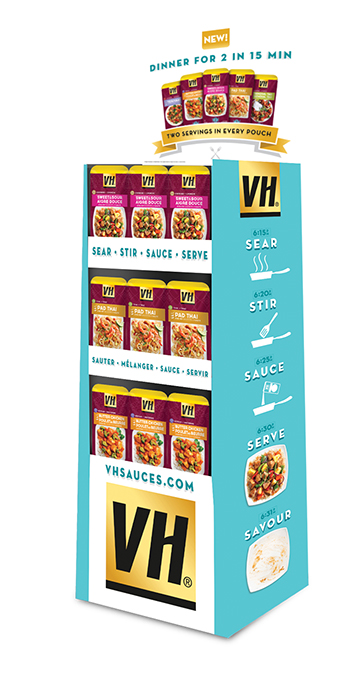 ConAgra, maker of VH Sauces, has been experimenting with formats, introducing smaller packages at lower-risk price points. It first introduced pouches in 2015 as a smaller alternative to bottles, aimed partly at millennials, who are more sensitive to food waste. Last fall, it ran a campaign called "Less Commitment," contrasting its pouch format with more dramatic life decisions.
The brand now offers seven SKUs in the pouch format, after adding four new ones in 2016. Sales for the pouches have grown 84% year-over-year, gaining 15 points in the "perfect for two" segment and making VH the market share leader at 38%, Fowler says.
But the movement against waste is also taking on a more revolutionary form. In Europe, there are dozens of grocery stores, such as Berlin's Original Unverpackt or the Granel chain in Spain, committed to pre-cycling. These curated stores limit consumers' options: rather than choosing between seven brands of packaged penne, for example, the stores stock one, package-free. Consumers bring their own reusable containers, weigh them in advance, and fill them with rice, coffee, olive oil, etc., paying for what's inside and eliminating packaging debris altogether. The Berlin store even stocks chewable toothpaste pellets, cutting out the carton and the tube. The idea is that consumers buy only what they need, reducing food waste.
Similar store formats are popping up in North America. Méga Vrac and Loco opened in Montreal last summer, as did Green on B.C.'s Salt Spring Island; Nu Grocery will be opening soon in Ottawa; and Zero Waste Market, which has been running pop-ups in Vancouver for the last 16 months, will open a permanent location in the fall. Bulk Barn is also getting in on it, introducing its own reusable container program across the country after a pilot program in Toronto.
"I don't think it's a trend," says Brianne Miller, the former marine biologist who co-founded Zero Waste Market. "I think it's a pattern of consumption that hopefully sticks around as people become more aware of their purchasing decisions."
She's run about 20 pop-up shops at Vancouver markets and a Patagonia store (leveraging the apparel brand's conscious consumer) over the last year-and-a-half, using them as a testing ground before investing in a permanent space. It's "a big ask in a society where people depend on efficiency and convenience, especially when it comes to groceries," she says.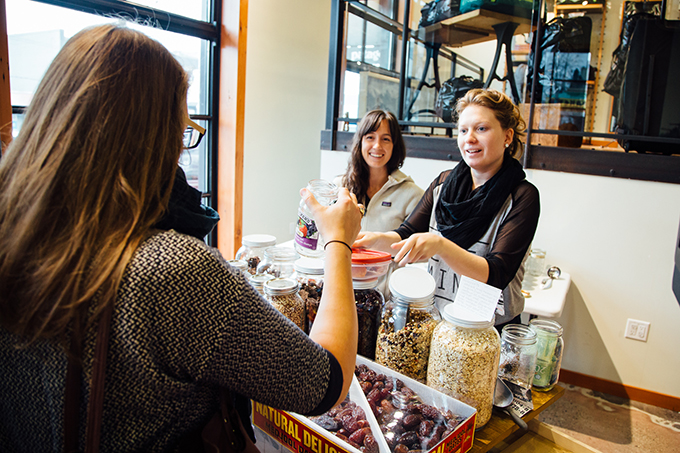 She's also used the pop-ups to track customers and build a community around the store. The POS system, which recognizes returning customers through payment card information, shows a growing number of returnees and increasing basket sizes, she says. The brand has also used researchers at the pop-ups to observe customer behaviour, from how they interact with the bins to what containers they bring to the store and how they're transported.
The company is also building a community movement around its values. It's used social media for this, with Zero Waste Facebook groups in Vancouver (roughly 2,500 members), Toronto, Montreal and Ottawa. The groups are non-branded, featuring general discussions around the topic of zero waste and not used to push the store's own messaging (it uses its own branded social channels for that), but Miller says they've been useful in building awareness and receiving information about products and other ideas.
The challenge for zero waste stores comes down to practicality, Gregoire says.
"Time and the subsequent demand for convenience are a larger hurdle for the movement. While the ideal for most is to eat fresh, the reality is that when consumers are time pressed, pre-packaged options, which inherently have more waste, offer value – not to mention concerns around product safety," he says.