Belairdirect shows its forgiving side
A new campaign for the Accident Forgiveness program reflects a recent pain-point-focused approach to its marketing.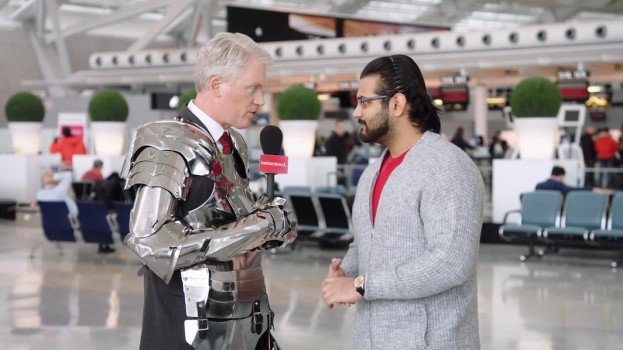 Belairdirect wants to show it's listening to Canadians and addressing their biggest insurance complaints in a new campaign.

In a new ad, Belairdirect's familiar knight spokesman talks to people in an airport about how they feel about their insurance premiums going up after their first accident or issue with their home. They, unsurprisingly, don't feel that it's very fair, which is when the knight tells them about Belairdirect's Accident Forgiveness and Home Claim Forgiveness programs, which guarantees their premiums won't go up after their first accident or home insurance claim.

"It was very important to make sure we aren't telling customers what we believe their pain points are," says Richard Taschereau, deputy SVP of marketing, communications and business development at Belairdirect. "We wanted to ask them, clearly, if they thought this was a problem for them, and then propose our solution and get their reaction to it. We wanted to make sure the customers were at the centre of the ad and have the opportunity to present the pain point themselves."

The campaign was led by Sid Lee, with PHD Montreal on media. The television spot runs until June 11.

Taschereau joined Belairdirect last summer. He says this campaign – as well as one earlier this year that focused on the "switch, combine, save" option for new customers – is reflective of a new approach the company is taking to its marketing in 2017.

"We had the idea to refocus our marketing plan and campaigns to make sure we are coming to the market with a good reason for customers to choose Belairdirect," he says. "We  are identifying the pain points consumers have in insurance, and then finding out if there are solutions to those through what Belairdirect offers."

Cost remains the biggest pain point for customers in the insurance space, which Taschereau says is why the year began with focuses on cost-reducing programs. The company's own research also shows that there is a positive reaction for the concept of "forgiveness" among Canadians. In a survey of 1,542 people conducted by Leger, 90% of respondents agreed that it is easier to forgive when the fault is unintentional, 83% agreed that it is better to forgive the first time a fault is committed and 73% would like to be forgiven for past mistakes. What's more, 78% agree that forgiveness helps to restore confidence.

Belairdirect will be focused on its value proposition and addressing a wider range of pain points as the year goes on, but does plan to launch a campaign late this year or early next that takes more of an emotional approach. Taschereau says it will give the company a layered approach to its marketing, driving brand awareness and confidence on top of work that is more functional.

Belairdirect has offered its Accident Forgiveness program for a number of years in automotive, but recently expanded it with Home Claim Forgiveness to include home insurance as well. In addition to promoting the expansion of the program, Taschereau says there is a perception that Belairdirect only offers automotive insurance, another thing this campaign is attempting to address.