Cannes 2017: Canada picks up 14 shortlist nods in Health
While Canada came up short in Innovation and Pharma, work from Cossette, FCB and Lg2 gave the country a strong start.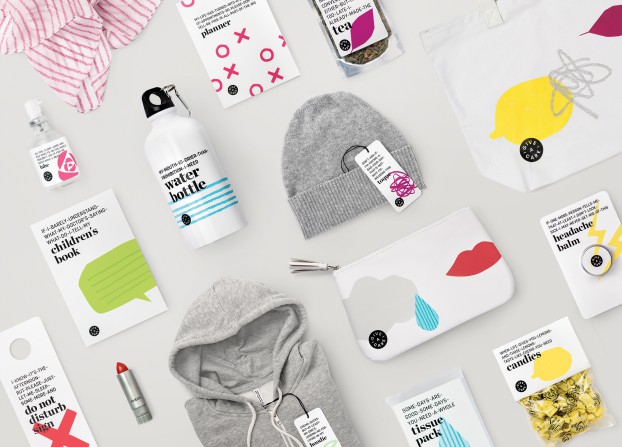 Pictured above: Products from Rethink Breast Cancer's "Give-a-Care" line, created by Lg2, shortlisted in the Health category.
Canada is beginning this year's Cannes Lions International Festival of Creativity on a strong note.
Despite being a no-show on the shortlists for the Innovation and Pharma categories, announced today, Canadian brands and agencies have collectively received 14 shortlist mentions in the Health & Wellness category.
Specifically, SickKids, Cossette and associated agency and production partners picked up five shortlist mentions for work under the "VS" platform, including the entire integrated campaign.
FCB Toronto wasn't far behind, earning four shortlist nods for its work with the Canadian Down Syndrome Society, with FCB/Six also picking up a mention for its work with Drug Free Kids Canada. "Down Syndrome Answers" involved a series of online videos and a microsite  dedicated to having people with Down syndrome answer common questions about it. "The Call that Comes After" used automated, personalized text messages to deliver an anti-drug message alongside a PSA.
Lastly, Lg2 Toronto earned four shortlist mentions for its "Give-a-Care" product line, created for Rethink Breast Cancer as a way for people to give more meaningful, useful gifts to loved ones with cancer, and also to educate the public about what those women are really going through.
The Health & Wellness category overall had 243 shortlisted entries. The winners will be announced later today.
For their part, the Innovation and Pharma categories had 35 and 59 shortlisted entries, respectively, though Canadian work didn't make an appearance.
Read on to see the specific subcategories where Canada has made its mark so far, and keep checking back this week for more coverage of this year's award winners and festival.
Health Lions shortlist (14)
SickKids Foundation, "VS," Cossette Toronto; Jam3 Toronto; Skin & Bones Toronto; The Mill New York; The Vanity Toronto; Westside Studio Toronto; OMD Canada Toronto; SNDWRX
Integrated Campaign
Direct & Promo and Activation
PR

SickKids Foundation, "Undeniable," Cossette Toronto; Cossette Toronto; A52 Santa Monica; Skin & Bones Toronto; The Mill New York; The Vanity Toronto; SNDWRX
Film: Cinema, TV and Digital Film Content

SickKids Foundation, "Momstrong," Cossette Toronto; Skin and Bones Toronto; The Mill New York; The Vanity Toronto; Pirate Toronto
Film: Cinema, TV and Digital Film Content

Canadian Down Syndrome Society, "Down Syndrome Answers," FCB Toronto and Reprise Media Toronto
Branded Content and Entertainment: Digital and Social
Branded Content and Entertainment: Film, TV and Online Film Content
Digital: Social
Direct and Promo & Activation

Drug Free Kids Canada, "The Call that Comes After," FCB/Six and UM Canada Toronto
Creative Data: Use of Real-time Data

Rethink Breast Cancer Canada, "Give-a-Care," Lg2 Toronto
Direct & Promo and Activation

Rethink Breast Cancer Canada, "Sanitizer," "Hand Cream," and "Tea," Lg2 Toronto
Print & Outdoor Craft: Copywriting (3)