Inside Sobeys' cross-country journey
From a regional chain to the country's second-largest grocery company, the Atlantic Canadian retailer has seen mammoth growth in its 110 years.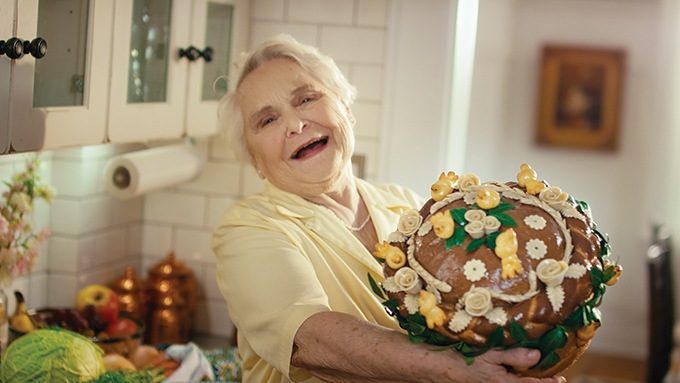 This article appears in the Summer 2017 issue of strategy.
It all started in the Maritimes with a horse and buggy loaded with meat.
After retiring from a career in mining in 1907, J.W. Sobey delivered meats around his local Stellarton, N.S. community before his son, Frank Sobey, convinced him to start a shop.
Sobeys Food Store opened for business in 1924, and looked vastly different from what we see today: shoppers approached the counter to place their order, never handling the products themselves.
"When Frank opened store one, there were six independent, family-owned grocery businesses on the same street," says Bernard Doucet, director of corporate affairs at the retailer. "Differentiation would have been at an extraordinarily personal level."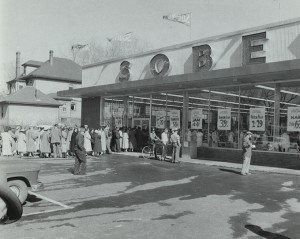 Traditional marketing efforts were sparse, but indicative of the times, including print ads and in-store contests. Bikes, dryers and new-fangled blenders were common giveaways – anything to get people in stores, says Doucet.
Product selection was local by nature, and developing one-on-one relationships with consumers and vendors was a key factor in the store's early success. Good service was a founding philosophy for Frank Sobey, who would occasionally walk the store and shake hands, Doucet says. And it was that personal touch that kept people coming back.
It's been 110 years since J.W.'s meat truck and Frank's counter store. While Sobeys has seen extraordinary growth over the past century, it owes its success to its original principles: a local focus and good service.
Within 15 years of its launch, the store had expanded to six other locations across the region before it introduced a new approach to shopping. In 1947, Sobeys revolutionized the way people in Atlantic Canada shopped, opening a "groceteria."
Modelled after the supermarkets or "marketerias" of Central Canada and the U.S., the grocer did away with the counter format, instead asking shoppers to venture down the aisles to serve themselves before heading to the front counter to pay.
It was the first to use the format in Atlantic Canada, says Doucet. Shoppers – almost exclusively women – were invited to enter through the turnstyles at the front of the 100- by 40-foot store, leaving their baby carriages behind, and grab a grocery buggy. Products were grouped by category, allowing "the housewife [to] make her own choice of the different varieties and grades," according to a newspaper article explaining the process. Thousands of people streamed through the store just to see what the fuss was about.
"We take it for granted today, but at the time it was hugely innovative," Doucet says. Sobeys also introduced the first automated door in Canada in 1947, and the house label – self-titled as "Sobeys" – in the '50s. While PR wasn't exactly mainstream at the time, Frank Sobey recognized innovation as a draw, says Doucet.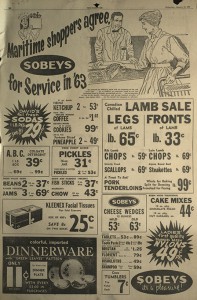 By the 1960s, the company was achieving sales in excess of $22 million (equating to $174 million today). The grocer had a presence across Atlantic Canada, with 48 stores, by far the region's dominant player.
In the '70s, the brand began exploring TV advertising and introduced the four-ball logo, with each ball meant to symbolize a brand attribute: quality, honesty, value and modernity, says Doucet. The colours – orange and green – represented clean food.
Sobeys hit its next major milestone in 1987. That year, the brand made a more concerted effort to venture outside of Eastern Canada (beyond the Maritimes, it had a handful of locations scattered across Quebec), setting up shop for the first time in the coveted Ontario market. It also achieved sales in excess of $1 billion, experimented with touch screens (the "touch-sensitive screens" at the front of the store offered recipes, meal suggestions and coupons) and launched its first iconic ad, which would resonate with Maritimers for years to come.
"Star of Christmas," created by agencies Clary Flemming & Associates, Quincepts Production and Citadel Communications, featured a gaggle of giddy kids, with shots of Sobeys staff peppered in. It introduced the "Star of Christmas" carol, written by musician Bob Quinn and sung by local children. "It's hard to put into words how iconic that commercial is in Atlantic Canada," Doucet says.
Indeed, the campaign – which was brought out of retirement in 2016 with an updated carol and video – has had a lasting legacy in the region. In the late '80s, a boy once wrote to Santa asking for a cassette of the song (the letter was published in a Halifax newspaper). Maritimers have twice named the spot the best Christmas commercial ever.
More recently, CBC devoted an entire "oral history" piece on the ad. "Star of Christmas" was quintessentially Atlantic Canadian and epitomized the "down-home" feel of the brand, Quinn told the CBC. "Sobeys went through quite a transition about 10 years ago when they started expanding nationally, and corporate thinking came into it and pushed out the family thinking," he said.
Indeed, the brand began shifting its approach to marketing in the '90s as it expanded across the country in earnest. It was no longer the dominant player, but rather a smaller competitor in a vastly different marketing landscape. It also had to contend with a stronger presence from Loblaws, which was making a concerted push into the Atlantic Canada region and successfully taking share from Sobeys.
By the mid-'90s, product and price began to play a bigger role in marketing. For example, Sobeys' "So Satisfying" platform focused on low pricing, backed up with weekly specials in stores. Another campaign featured a pair of boys frantically eating Sobeys' in-house chips while watching a horror movie.
Amid competition from Loblaws' President's Choice label, Sobeys rejigged its private label line, renaming it Our Best in the hopes of also taking share away from IGA's Our Compliments line. (The two retailers later merged, dropping Our Best for Our Compliments, and then later renaming the line as "Compliments" after Sobeys acquired IGA parent co. The Oshawa Group in 1998.) It also introduced Signal, a lower-cost private label line to compete against Loblaws' No Name brand.
But despite the 110 stores across Eastern Canada, the brand struggled to find its foothold in Ontario and Quebec, where Loblaw and IGA were dominant. Sobeys maintained the top spot in Atlantic Canada – holding roughly 40% market share in the region throughout the '90s, but failed to make much of a dent elsewhere.
It wasn't until parent company Empire acquired the Oshawa Group – owners of IGA and Price Choppers (rebranded later as FreshCo) – that Sobeys achieved the scale it had hoped for.
The $1.5 billion sale ($2.1 billion today) tripled the company's size and forced it to decide whether to rename all the stores under the Sobeys banner.
"It was a fork in the road for our brand," says Liam Sobey, director of category management optimization, and grandson of Frank Sobey. Quebecers had a strong affinity for the IGA brand and the chain had managed to avoid competing on price, he says. Shopping bills may have been higher, but the IGA brand was never lacking in strong sales.
Parent company Empire decided to maintain the two separate brands, and marketing activities were split between chains. Communication efforts – already managed separately across regions – were even more decentralized, and there was little consistency, even within the Sobeys banner. So, in 2001, the company hired Roxanne Pearce as VP national marketing, with the goal of creating a more unified marketing approach.
Driven largely by competition from Costco and Walmart, price was the de facto marketing platform for many grocery brands, says Pearce, who is now an independent marketing strategist. Researchers found there was an opportunity for consumers who were, indeed, concerned about price, but also wanted service and quality. With a marketing campaign that harkened back to Frank Sobey's original mandate around customer service, the brand introduced a new tagline in 2003: "Ready To Serve" launched across TV, radio, print and in-store, with a lightly re-designed logo (creative was by the late Maria Kennedy, then-president of Karacters).
The staff was retrained to focus on service, while in-store signage offered new ways to think about food: freeze watermelon for a nutritious ice cube, or purée tomatoes in place of salad dressing.
Television spots, created by DDB, rolled out nationally and focused on the brand's commitment to service. One introduced "runners" – employees who would fetch food for customers waiting in line (though it worked in theory, it never really took off, says Pearce).
"['Ready To Serve'] is one of the brand's most enduring taglines," says Lyne Castonguay, chief merchandising officer. "We've [since] changed the slogan, but it remains scattered in a few stores throughout the country."
Indeed, share grew by 0.2% across the country one year after the "Ready to Serve" launch – a significant bump in the crowded and competitive market. But shifting consumer palettes motivated the company to revisit its approach to marketing again in 2011. The brand undertook four studies, delving into consumer insights across the country. This time, it came out with "Better Food For All."
The brand platform, which continues to this day, encourages consumers to eat better, feel better and do better, Castonguay says. It was based on the insight that across the country, consumers want to be healthier, and Sobeys can play a role in helping them.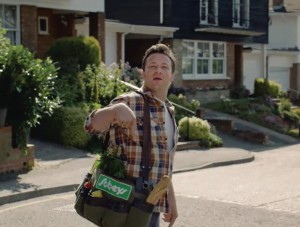 To promote the new positioning, Sobeys partnered with chef Jamie Oliver to target three consumer segments: "fresh food enthusiasts" (40-to-55-year-old high-income earners who are less value-conscious), "fresh and savvy consumers" (25- to 35-year-olds who are more value-conscious) and "packaged meal lovers" (single young adults and young professionals who are time-starved).
Working with Rethink and Jungle Media, the TV campaign launched in 2013 and followed Oliver as he travelled the country delivering healthy food options to unsuspecting homeowners.
The new platform rolled out amid Empire's acquisition of the Safeway chain in Western Canada. In a $5.8-billion deal, the company added 181 Safeway locations and finally achieved a foothold across the entire country (save the territories).
Despite the decision to operate the brands independently, the teams share certain national programs, and Compliments replaced some Safeway in-house brands (as a result of duplication and because Sobeys was unable to hold the license to certain trademarks from the former owner).
Sobeys also took the opportunity to streamline the myriad loyalty programs it accumulated: Central Canada's Club Sobeys program and Safeway's Club Card were dropped in favour of Air Miles, which was being used in Atlantic Canada. It was not well received.
Castonguay puts some of the blame on the speed of communication: "It's not that they thought the product was bad. But I think our transition and how we communicated to [consumers] that we're moving from one product to another was probably not as clear as it should have been," she says.
The retailer is also doing some internal streamlining, Castonguay says, as there is a fair bit of duplication in certain roles across banners and within the Sobeys chain. High on her priority list is a single point of contact for vendors, who currently have to deal with the grocery chains on a regional and banner basis.
The team is also looking to collaborate across banners, she adds, pointing to a recent soup push that originated from the Safeway chain and is now being utilized across Sobeys stores. The product launch included the rollout of fresh soups across the country, with flavours based on regional favourites (derived from local shopper data). The soups are available for immediate consumption and on shelves for customers to take home and eat.
It's part of a growing trend, in which shoppers are looking for healthier, ready-made meals in place of traditional centre-store products. Infused waters, fresh-cut fruits and veg, and healthier prepared meals will play a larger part in Sobeys' merchandising and marketing strategy going forward, she says.
Digital grocery, too, is a bigger focus. It's moving slowly into online shopping, leaning heavily on IGA (which has operated an online store for 20-plus years) before Sobeys commits to a single omnichannel avenue.
Finally, Castonguay says there's more room for brand boasting in Sobeys' future, pointing to the 110th birthday celebration coinciding with Canada's 150th.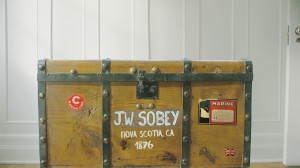 Working with Gravity Partners (digital and creative), UM (media), High Road (PR), Fish Out Of Water Design (in-store) and Clothesline Media (internal marketing), the brand is rolling out a multi-platform campaign. A special logo blending Sobeys' and Canada's anniversaries and birthday-themed products (cookies, maple-leaf shaped burgers, etc.) are rolling out across all banners (only the Sobeys locations get the special 110 branding, though).

On a mass scale, the brand is working with Halifax's immigration museum, Pier 21, to get employees to submit their stories of immigration or growing up in Canada, with a social push encouraging others to do the same. That content will be leveraged in a TV campaign this fall to emphasize Sobeys' place in Canada's history.

"In the background, we haven't been loud about these things," Castonguay says. "But I want us to be best in class. I want to be quicker with our messages. I want us to take swings and to not be afraid to try things that don't work."