Frank + Oak escapes from fashion traditions
The company is adopting a new strategy, breaking away from seasonal approaches to new product launches.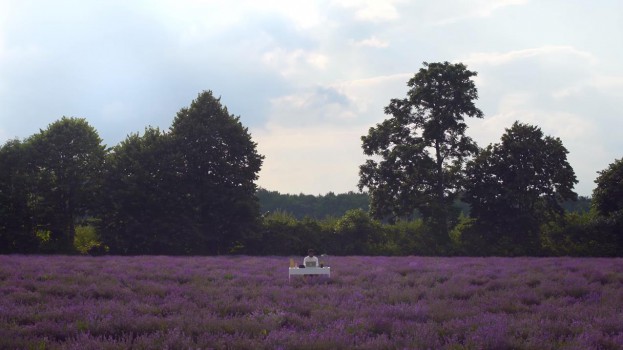 Frank + Oak has launched a campaign for its new Airy Sweater – representing a new approach in how it talks to consumers about product launches.
In the online-only "Airy Escape" video, dancer Joseph Bastien N'Diaye sits at a regular office desk, although it's in the middle of a field of wild flowers. N'Diaye then stands up and begins to dance through the flowers in his Airy Sweater, the message being that the knit and material of the sweater will give whoever is wearing it the freedom to feel like they are in the middle of an outdoor breeze, whether they are wearing it outside or in the office.
The video production was handled by Rodeo Productions and Frank + Oak's own in-house creative team, and directed by Bruno Florin. The campaign also features digital display ads and is being woven in to the brands CRM activities. The Airy Sweater has also been given its own microsite, which has more information about the sweater, its functionality and links to similar products.
Like most brands in the fashion industry, Frank + Oak used to approach new product releases as part of larger seasonal collections. But Edmund Lam, creative director at Frank + Oak, says the company found that approach didn't allow it to "dig deep" into specific products and communicate what made them special or different. So, the company has developed a new strategy, dropping new products in smaller groups and focusing on one key product at a time in its marketing, giving it "more room" to tell stories about its products, and have more fun doing so.
What's "special" about each products will tend to lean more towards the functional side, like how the Airy Sweater has the breathability to be worn both inside an office that is blasting its air conditioning and outside in the heat of the summer. But being able to have more space to zero-in on particular products is allowing Frank + Oak to be creative about that interpretation and tie it back to its brand identity.
"More often than not, we find ourselves taking inspiration from tech and service industries rather than fashion," Lam says. "While we're always helping our customers look their best, it's equally important for us that our designs are exceptionally functional. So when we talk about our new products, we make rational arguments. On the brand side, it's about showing our customers who the people are behind the brand and sharing what we care about. Of course one inevitably leads to the other, but brand talk tends to be about connecting and product about communicating."
The creative for each new product drop will be different and will aim for a slightly different tone depending on the product. For the Airy Sweater and the problem it solves for customers, it allowed the company to go in more of a playful direction.
"We know many of our male customers are creative types that work in offices," Lam says. "So here we have this sweater that keeps you warm when you need it but also loosely knit and breezy enough for when you don't. We asked ourselves what problems this sweater is likely to solve for our customers. We then concluded that this would be an ideal sweater to wear at work this time of year where one has to navigate between the frigid A/C in the office and the weather outside. We ran with that and had fun with it."