Check it out: Cupid sends couples to the movies
Cineplex is promoting its VIP in-seat service with new work from Zulu Alpha Kilo.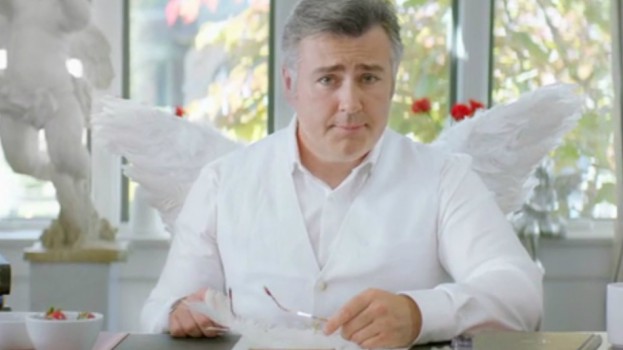 Cineplex wants to become the place for couples to reconnect. To do so, it's latest campaign casts a mythical character in a somewhat disgruntled light.
A new "Midlife Cupid" campaign from agency of record Zulu Alpha Kilo sees the winged matchmaker attempt to rekindle relationships that have fallen into a rut as couples enter mid-life. Instead of reading texts in bed or forgoing sex appeal to focus on their house's curb appeal, Cupid says couples "need a date."
The recommended venue for that date is VIP, the restaurant and bar brand that Cineplex has been rolling out in its cinemas in an attempt to add value to the experience.
The campaign's main 60-second spot focuses on in-seat dining, "where there's dinner in a movie." Shorter 15-second spots appearing online under the "Relationship 101" title contrast boring household chores ("picking weeds") with a night at a VIP cinema ("picking drinks").
According to Pat Marshall, VP of communications and investor relations, Cineplex found that while consumers had high awareness of the VIP service, they didn't fully understand what it offered. The spots (and accompanying OOH work) are designed to clarify the scope of the dinner and drink options available to those who buy VIP seats.
This isn't the first time Cineplex has promoted its offerings to couples in need of connection. Back in 2015, the entertainment brand ran a cheeky campaign all about the "hump date" –an effort to get pairs in movie seats on its cinemas' least busy night.