Five things I'd tell my younger marketer self (column)
PepsiCo's Nancy Rooney passes on lessons taught by hindsight to millennial marketers.

By Nancy Rooney
Hindsight is always a wonderful thing, and as I've mentored people throughout my career, I've been happy to provide them with any foresight that might help accelerate their career potential.
What stands out as of late is the number of career conversations I've had with young people, the so-named millennial workforce that everyone talks about. Those who "want it all, want it now and on their terms."
Yes, it's a stereotype, but today, approaching your career as a race – and not a marathon – might just be a good thing.
Technology has disrupted the knowledge hierarchy and that has the potential to help accelerate great people. So, buckle up all you young go-getters. If you want speed, follow these simple rules of the road.
Learn the fundamentals
Take each role as an opportunity to go deep on a skill. No need to prove yourself – yet. Ask questions, be curious, understand why and how and you will build an impressive knowledge base. Take some risks, have some falls but show that you have learned valuable lessons from them.
Value cross-functional assignments
These are not side-steps on your career path. They are a chance to learn the business better than anyone else. You will learn what drives your business, the barriers to its growth, how to execute a strategy. In fact, I have found that the marketers with rich cross-functional history know how to actually run a business and grow a brand. Learn how to talk business strategy before marketing strategy.
Work on turn-around businesses
These have been my toughest assignments, but I have learned the most valuable skills here. Real time experience in these environments teaches you how to lead with optimism and create a winning culture in a tough business. These roles require great talent and provide the chance to hone it by taking people out of their comfort zone to understand how to build their skills. You have to look backwards to learn, but you must focus forward and anticipate. That's an important skill. These types of roles will expand your knowledge of the business model as well as stretch your leadership capability.
Worry about what's now, not what's next
I know, I know. Everyone is in a hurry. I have found that the people who learn how to deliver exceptional results in whatever desk they work on are the ones who can open the most doors. So be prepared to deliver consistent results and earn the right to talk about the next role. Your sponsors and advocates will naturally be built through strong business performance.
Learn how to network authentically
Do not be naïve and think that if you just work hard, the rest will take care of itself. Seriously. Be the one who knows how to influence the meeting in advance of the meeting. Be savvy and shop your ideas around to get more feedback and help gauge executive support. Don't wait to find out when you are presenting your final recommendation.
Finally, figure out a comfortable way to build your network. Don't book coffees with the execs to brag to your peers. Build content-based networking meetings that provide value to both you and the business leader; debate a strategy, learn from their career path, discuss leadership.
All of a sudden, without "selling yourself" you are actually selling yourself in a true and authentic way and on the road to career success, professional growth and personal satisfaction.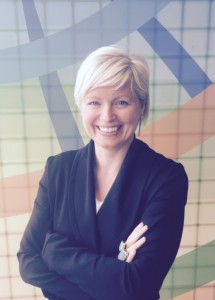 Nancy Rooney is senior director of strategy and marketing for PepsiCo Canada.