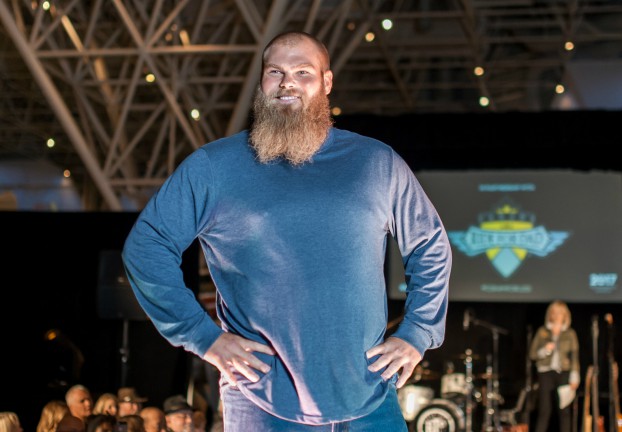 Value department store Giant Tiger has been seeing success in its clothing department after rethinking in merchandising strategy and adding a few new brands to its racks.
September saw the relaunch of its men's clothing lines, which added the "urban style" Rivet61 label to its lineup. The new line made its debut at an Ottawa fashion show that featured members of the Ottawa Redblacks (offensive lineman Jon Gott pictured above) and a number of prostate cancer survivors (the show benefited the Ride For Dad charitable organization).
Rivt61, like other Giant Tiger exclusive labels, now has its own "fashion house" within Giant Tiger's clothing departments, which groups products by brand rather than exclusively by apparel type, and shows how various outfits could be assembled.
It's also shifted how it stocks men's clothing to reflect men's mission-based shopping style. Karen Sterling, the retailer's VP of marketing, says for women, "there's more enjoyment in the shopping process. Men just want to pick it up and head out as fast as they can. If they like something, they'll pick up four of them in four different colours. So now, we [group] shirts with five different colours."
The changes in the store's fashion departments is part of an overall reinforcement of Giant Tiger's brand positioning that it is an easy, one-stop shop for people on the go.
Similar changes were made in the women's and children's departments earlier this year. The privately held Canadian company does not disclose it sales or financial figures, but after first launching its fashion house approach with its women's clothes, Sterling says "we had our best year ever in terms of women's fashion and we are extremely happy. It's why we followed suit with children's and men's fashion."
Next on the retailer's agenda is a planned make-over its housewares department. It is also readying the launch of a new exclusive women's sleepwear and lingerie line called Carisma.
Giant Tiger has been expanding its retail footprint as of late, having opened 15 locations across the country this year with more to come. It currently has more than 235 stores.