Innis & Gunn lets Canadians pick its next beer flavour
The Scottish craft brewer aims to learn about local tastes and give its fans a stake in the company.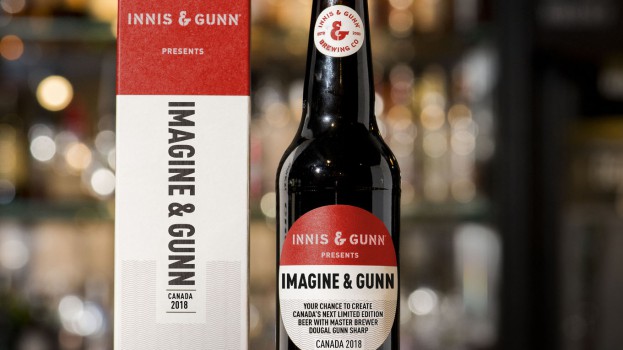 Scottish craft brewer Innis & Gunn has launched a new contest that aims to make Canadian beer lovers feel like they have a role in the company's story.

The "Imagine & Gunn" contest is inviting Canadians to submit ideas for a new flavour of Innis & Gunn beer on the craft brewer's website. The winner will be flown to the Innis & Gunn brewery in Scotland this coming January to help brew their idea, which will be sold across Canada next fall. The winning brewer will also be involved in all the details of the brewing process, from selecting the hops and malts in the beer to creating the name and packaging.

Innis & Gunn is working with Craft Public Relations to handle PR and social promotion for the contest.

Flavour innovation has been a major differentiator for Innis & Gunn. It was among the first to use barrel ageing to infuse more flavour into its brewing process more than ten years ago, and while others have begun to pick up on the trend, it is one of the only ones that is able to offer it nationally and year-round. Flavours found in its beers over the years have included raspberry, rum, bourbon and treacle. That differentiation has become especially important, given how crowded the Canadian craft beer category has become.

"I think that competition is a great thing, because more of our drinkers are enjoying craft beer and evolving their palettes to appreciate the flavours we're known for," says Dougal Gunn Sharp, founder and master brewer at Innis & Gunn. "A rising tide floats all boats. Five years ago, it would have been hard to get interest in this contest and have enough demand to then launch the product nationally."

The "Imagine & Gunn" program was first launched in Sweden in 2013. Past contests have almost served as consumer research, with Sharp saying the submitted ideas have helped to shape the company's thinking around its beers and offer a greater window into the kinds of things its drinkers are looking for.

The contest also fits in with the brewer's goal of democratizing craft beer and making its fans a big part of how it operates. Last year, Innis & Gunn was looking to secure more funding for its operations. Rather than seek out private investors, Sharp launched a crowdfunding campaign that raised £2.5 million (roughly $4.17 million) from 2,012 fans and friends of the brewery. Those donors now also have a stake in the company – a combined 5% ownership stake. While Canadians were not able to donate to the crowdfunding effort, Sharp says a campaign that gets fans involved with the brewer to the degree "Imagine & Gunn" does can have a similar result.

"They are investing with a financial mind, but also their heart and souls," he says. "They are very proud that they get to own a piece of the company and get to say 'this is my beer' to their buddies in a bar."

Other initiatives Innis & Gunn has used to make inroads with Canadians included VR experiences inspired by its brewery for people who ordered one of its beers at bars across Canada last fall. In the summer. it had a food truck that gave out "haggis poutine" to promote its Maple & Thistle Ale, a beer created for Canada 150 that similarly combines Scottish and Canadian flavours.