2017 Brands of the Year: Nissan doesn't play it safe
How a commitment to building drivers' confidence has made the auto brand stand out in the highly competitive SUV and crossover market.
This article appears in the October 2017 issue of strategy.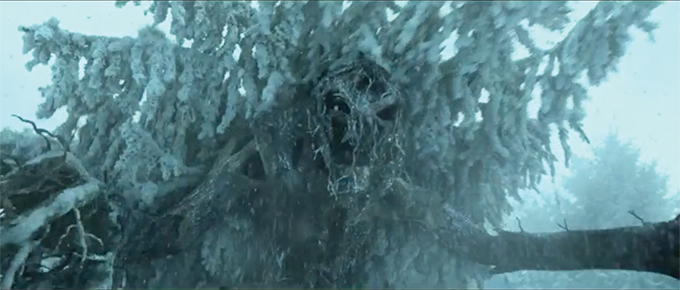 We're rolling out our 2017 Brands of the Year. Check back later this week for the stories behind some of this year's standout brands.
Consistent, long-running brand platforms have become rare in Canadian automotive marketing.
One exception is Nissan. The world's sixth-largest automaker (and leading electric vehicle manufacturer) has not only consistently targeted Canadians with its crossovers and SUVs, but done so in a way that energizes an already popular category.
Over the last four years, a global desire to build the Nissan brand has resulted in an increased focus on unique work in the Canadian market to get drivers to connect with its "Innovation That Excites" positioning. That's where the Canada-born "Conquer All Conditions" platform comes in.
Launched in 2014 by TBWA Toronto (now Juniper Park\TBWA), the creative takes a cinematic approach to show how its crossovers and SUVs can handle whatever the harsh Canadian climate throws at them, dramatized through giant, evil snowmen with catapults or monsters made of rocks and mud. The ongoing campaign, created for the Nissan Rogue, has expanded to include the automaker's full portfolio of SUVs and has been adapted for other markets.
It's a prominent campaign in a red-hot category, as SUVs and crossovers are the most popular vehicle formats in Canada today. The segment now represents 39% of new vehicle sales in Canada after overtaking passenger cars this year, which now account for one-third (from more than 50% around the time of the recession).
"When you surveyed car buyers a decade ago on what the most important reasons were for buying a particular car, safety would be somewhere between tenth and fifteenth. Now, it's consistently in the top five," says automotive analyst Dennis Desrosiers.
"Consumers in the last decade have embraced safety, and that's why the SUV segment as a whole has grown so much. Nissan has, very wisely, done a good job at telling people about their advantages in that regard."
Following the lead of "Conquer," Nissan's director of marketing Steve Rhind says the company has been focusing on showing how its vehicles can give drivers confidence on the road.
"Canadians are pretty pragmatic when it comes to the reasons for purchasing a vehicle," Rhind says. "'Conquer All Conditions' came from the number one reason for buying a compact SUV – which was all-wheel drive. And that was because it gave them more confidence in difficult driving situations. It speaks to safety, sure, but our belief is also that to get their attention, we have to be exciting."
Desrosiers points out that "Conquer All Conditions" is an ad campaign that, for the most part, rarely shows Nissan's SUVs "fighting" or "defeating" any of the monsters. The vehicles are always dodging, evading or escaping the monstrous weather.
"An awful lot of drivers view safety as being able to escape a difficult situation, rather than prevent it," Desrosiers says. "They want to be confident that they'll be able to hit the gas and get out of a bad situation."
Another recent spot showed a Nissan Rogue driver backing up in a campground, unaware that he was about to collide with an oncoming dump truck. Luckily, the motion sensors and collision monitors prevent a disaster.
"Some of the communications will be more cinematic and bigger, but you can't do everything at that level," Rhind says. "Sometimes you have to capture that essence in a different way. Even though a truck on a campground isn't as cinematic, it's still a dramatic moment where the vehicle saves the day."
As of July, sales for the Rogue have so far grown a further 16.2% year-over-year, continuing seven consecutive years of sales growth for what has consistently been among the most popular vehicles in Canada. The brand's Pathfinder and Murano SUVs also continue to perform well, and sales of the Leaf are up 11.7% in the growing electric vehicle segment.
Far from just reaping the benefits of a booming category, Nissan's market share has also grown by more than two points since its renewed Canadian focus began.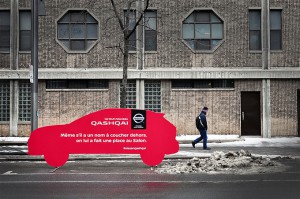 On the flip side, sales for cars – including the Sentra, Altima and Maxima – are continuing to slip, mirroring an industry-wide decline. And sales for the smaller Juke crossover are also tumbling, but that could be attributed to the launch of the similarly sized Qashqai in June. The brand's new vehicle was purposefully designed to straddle the line between compact car and crossover SUV. It has many of the features that have attracted drivers to crossovers – all-wheel drive, spacious interior and versatility – at a size and price point more in line with today's customer needs.

For Qashqai, Nissan is looking to reach a consumer segment that's interested in smaller vehicles – especially those in urban environments – by using the equity it has built in crossovers and SUVs.

After a small pre-release digital campaign in April, marketing for the Qashqai's launch debuted in the summer. The lead TV spot showed a Qashqai driver diverting off a regular city street in favour of significantly rougher terrain, traversing dirt, mud and holes in the ground, before coming back into the city again. The "best of both worlds" message is also reflected in a national OOH campaign, the first Nissan has done in Canada since 2013.

"The compact car was number one until compact SUVs took over," Rhind says. "So there's still a lot of people who own and like that kind of vehicle, but they might not consider moving up to an SUV because it's bigger or more expensive. This is an opportunity to bring in a vehicle that drives like a [compact] car, but has [SUV] capabilities."

Nissan has also begun to apply its marketing approach to new automotive technology. In addition to connected car platforms, Nissan has been a global leader in developing autonomous vehicle technology, most of which is meant to avoid collisions and keep passengers safe without a driver. Pieces of that tech have already made their way into Nissan's vehicles, and the automaker has been speaking about collision detection, forward emergency braking, blind-spot sensors and all-wheel drive to help make drivers confident (and safe) on any road.

Rhind says Nissan's "Intelligent Mobility" platform (where the company's vision and mission is to create technology and cars that integrate into society) will be an even bigger part of the marketing going forward.

"That's what takes us to the future," he says. "And it's proof of how we deliver on 'Innovation That Excites.' It's a new way to show that confidence can be exciting, on top of keeping you connected."