Forty Creek gets a facelift
The whisky brand revamps its packaging for the first time in its 25-year history.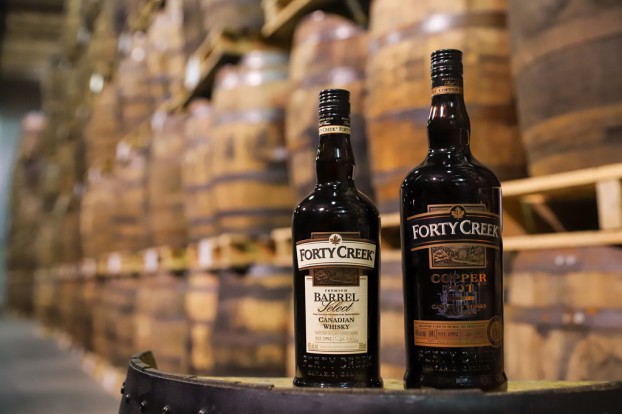 Pictured: Forty Creek's new packaging, above and old packaging, below.
Canadian whisky brand Forty Creek has revamped its packaging, the first change to its bottles' and labels' look since launching in the early 1990s.
The redesign is an effort to "premiumize" the brand, says John Andersen, senior brand manager for North American whiskies at Gruppo Campari.
That mission began following the global parent company's purchase of the brand in 2014. Gruppo Campari wants to bring it up to speed with competitors in the increasingly busy category, but also have its outside match its insides, Andersen says.
Consumers didn't necessarily think Forty Creek wasn't premium already (the brand has won several awards), but it's packaging didn't necessarily reflect that, he says. Forty Creek is currently the number five Canadian whisky in terms of share, performing slightly better in Ontario, where it's fourth, he says. It's also continuing to grow, experiencing 3% growth this year.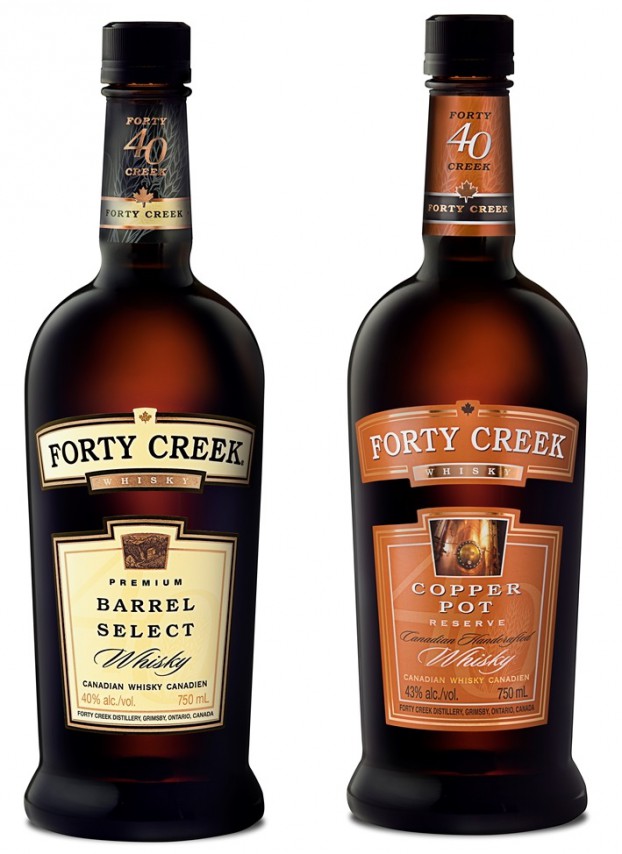 Overall, the new look aims to evoke the brand's bold characteristics. Among the changes are a new, proprietary bottle embossed with a design that nods to its home province of Ontario (the brand is based in the town of Grimsby). It has also swapped out its plastic top for aluminum.

The new design also increases the prominence of the maple leaf to bring more of its Canadian heritage to the forefront. That's particularly of note as the brand may venture beyond its current markets (Canada and the U.S.) to sell internationally, Andersen says.

The initial redesign was led by U.K.-based design and branding firm Claessens International, which Forty Creek then tested with consumers in Toronto, Calgary and Hamilton, Ontario (a market close to its Grimsby headquarters).

New Forty Creek Barrel Select and Copper Pot bottles will begin to appear on shelves in the coming weeks, while new bottles for Forty Creek Cream, Spike Honey Spiced, Double Barrel Reserve, and Confederation Oak are expected to roll out between the fourth quarter of 2017 and early 2018.

The packaging shift is being essentially soft launched, with no hard tactics at shelf to drive eyes to the new bottles. However, the new look is visible in the brand's new fall TV creative. The new spot is an extension of the "From a Good Place" campaign launched earlier this year, Forty Creek's first-ever TV buy.

Andersen says the creative – focused on Forty Creek's roots and how its reputation has grown – performed well and the new spot is being supported with a buy primarily focused on sports (including MLB and MLS playoffs the NBA and the NHL), with a secondary focus on late-night (Forty Creek's target skews to males in their 30s to 50s). It will also run as pre-roll online.

Forty Creek worked with Cossette on creative, Excelerator Media on media and Your Brand Integrated Marketing Communications for media relations support.

[iframe_vimdeo video="237753072"]