Constellation acquires stake in Canopy Growth
The alcohol giant will provide marketing support and collaborate on a new drink with the Canadian cannabis producer.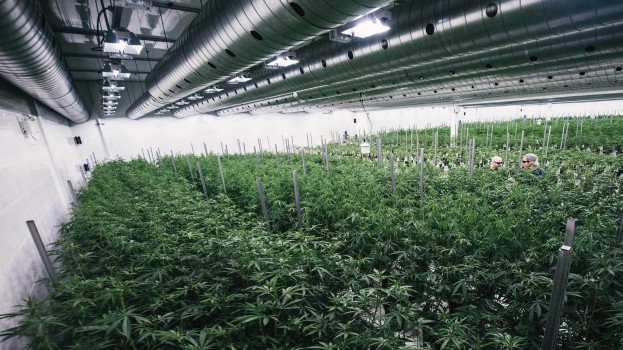 Global alcohol giant Constellation Brands has acquired a minority stake in cannabis producer Canopy Growth.

In a deal that is expected to close in Q3 of its 2018 fiscal year, Constellation will acquire a 9.9% stake in Canopy for an expected $245 million, with the option to purchase additional ownership stakes in the future.

As part of the "strategic relationship," as it is referred to in a press release, Constellation will provide Canopy with support in consumer analytics, market trending, marketing and brand development. While Canopy has grown into the largest cannabis producer in Canada, it was founded in 2014, and support in those areas will be valuable to the young company as recreational legalization is on the horizon in Canada.

The two companies will also collaborate on a new cannabis-based beverage. Earlier this month, an amendment to the federal bill that will legalize recreational cannabis use was passed stating that the sale of edibles will not be permitted for the first year of legalization, meaning any product the companies create will not be able to be sold until July of 2019 at the earliest. A press release from Canopy specified that any beverages would only be marketed "where and when such products are federally legal."

For Constellation – which has a roster of brands including Corona, Modelo and Svedka – the deal is a first step into what could potentially be a billion-dollar recreational cannabis industry, and not just in Canada. In an interview with The Wall Street Journal, president and CEO Rob Sands said he sees the deal as an anticipation of recreational legalization in the U.S., which he deemed to be "highly likely." However, he also said that any existing Canopy products or new ones created in collaboration would not be sold in the U.S. until cannabis use was legalized nation-wide, not even in states where recreational use has been legalized like Colorado, Washington and – beginning next year – California.

Canopy – which operates the Tweed, Bedrocan and Mettrum cannabis brands – has emerged as one of the leading players among Canada's licensed producers, both here and internationally. Despite generating increased revenue, the company has reported a loss in several of its recent financial reports, attributed to the fact that it is spending on increasing its production facilities and other strategic investments to help fuel its business growth. After closing its acquisition of Mettrum earlier this year, it has since acquired Saskatchewan-based producer rTrees Producers Limited – now known as Tweed Grasslands – and launched Tweed Main Street, an ecommerce platform that gives registered customers access to products from across its Tweed, Bedrocan and Mettrum brands.

This year, Canopy has also been aggressively pursuing an international leadership position in the medical cannabis industry, launching Spectrum Cannabis earlier this year as its brand outside of Canada. Through a combination of acquisitions, minority ownership stakes and strategic partnerships, Spectrum has given Canopy a foothold in markets including Germany, Denmark, Chile and Australia. Last week, it also announced that Grow House JA Limited in Jamaica – a company Canopy Growth holds 49% of the share capital of – would now operate as Tweed JA.