McCafe embraces the holiday cup craze
The brand debuts its first big holiday season push and a national promotion to get coffee lovers in its restaurants.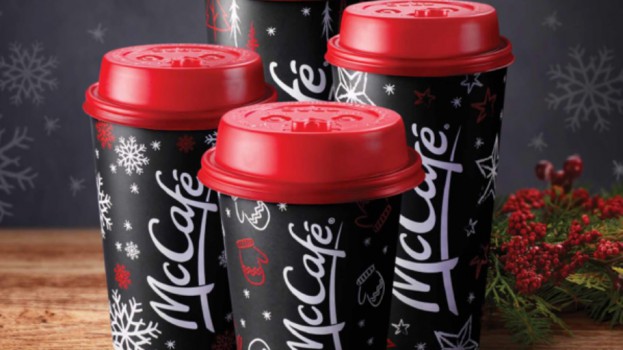 McDonald's Canada is getting in on the holiday coffee cup trend, launching its first major seasonal push specifically for its McCafé brand.

For the first time, McCafé has debuted holiday cups with red lids. Each size has its own specific design, though all are based on a black chalkboard look.

Canadians have a love for holiday cups and the holiday season generally, so McCafé is now doubling down on the festive time of year, says Catherine Crozier, head of McCafé innovation, marketing and brand development.

Along with the cups themselves, the brand is also launching its first national, month-long "$1 for any size" promotion after successful pilots in Western and Atlantic Canada. It's also the first time McCafé is nationally communicating its extra-large size, something it debuted based on customer demand. "People are very ritualistic with their favourite size," Crozier says.

Both the holiday cups and larger campaign are McCafé's attempt to stay relevant to consumers and reflect a time of year that's important to busy Canadians, she says.

A larger integrated mass and social media holiday campaign is set to launch next week for the McCafé brand, with the creative leaning into a "12 Days of Christmas" theme.

The festive push also includes new holiday-themed menu items, including two gluten-free desserts, based on a trend of consumers seeking out those kinds of items, Crozier says.