Why everyone is copying Greenhouse Juice
The company built a brand in a new category by investing in smart production, premium packaging and home delivery.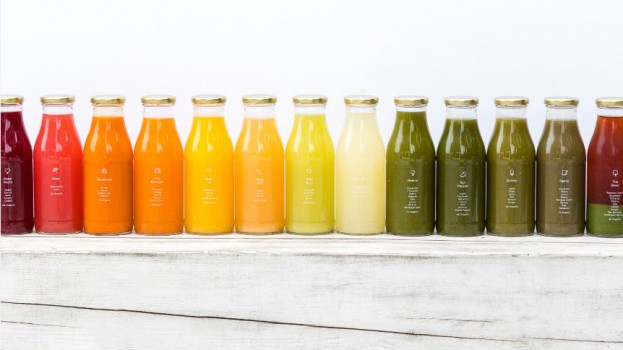 Toronto's Greenhouse Juice Co. is preparing to open its 16th location (in Toronto's Union Station in early 2018), which is impressive when you consider its category didn't really exist in Canada when it launched four years ago.

In January 2014, cold-pressed juice was hard to find here, but was readily available in major cities south of the border. Greenhouse co-founders Emma Knight and Anthony Green had discovered its health benefits while living in Los Angeles. Their love for the plant-based, nutrition-packed product was shared by Hana James, a third co-founder, who encountered it during her own travels to the U.S.

Back then, few U.S. companies offered cold-pressed juice that was 100% organic or bottled in glass. Fewer still offered products that were both, according to Knight, now Greenhouse Juice's director of brand and marketing. The trio wanted to launch their own take on the product in Canada – only better.

They opened their first storefront from within a bungalow in Toronto's Summerhill neighbourhood three years ago, not knowing how many customers would be willing to brave the wintry weather for a chance to taste a product they knew very little about. To the founders' surprise, they ran out of juice within the first few hours. Since then, Greenhouse Juice has grown to include 15 locations in the Greater Toronto Area.

In the early days, the brand focused on explaining the idea behind the product it was selling, because not many Torontonians had heard about the benefits of organic cold-pressed juice, Knight says. Early demand and a growing number of repeat customers was a "revelation," she adds. It would soon need to grow its operations in order to meet demand (at first, all juice was pressed in-shop overnight and sold the following day).

With high product prices to match its high production costs, the founders needed to scale if they were to reach sustainability and make their offering more accessible to customers. In June of 2014, they moved production into an 1,800 square-foot facility, allowing them to open more shops and increase distribution throughout the GTA. The company is eyeing expansion beyond the region, but has so far been limited by the product's short shelf-life. Scale and pricing remain its two biggest challenges.

By offering organic, locally-sourced juice that was bottled in glass, Greenhouse Juice set the benchmark for what would become the norm in the city. Many of its competitors followed suit, offering their own products in glass instead of the conventional plastic. To this day, Knight says plastic is hard to come by in the local industry.

Not only does glass packaging reduce the company's environmental footprint (and enhance the consumer's overall experience with the product), Knight says it also contributes to the quality of the product itself. Placing the "highly active, low PH" juice in plastic, she notes, can cause leaching and corrupt its purity.

Over the years, a slew of local competitors have cropped up, such as Elxr Juice Lab, Fresh, Refuel Juicery and Village Juicery. At one point, Knight counted as many as 35 seperate companies selling a similar product. However, Greenhouse aims to differentiate by offering delivery across the GTA.

"For us, it's like the 2017 version of the milkman," she says. "There's no beating that convenience."

Earlier this year, the brand launched a subscription service giving customers the option to create recurring orders and to have their cold-pressed juice delivered to their doorstep every morning.

The company's success comes despite little investment in marketing. To date, "the product has been everything," Knight says. "We've invested every ounce of energy and every penny into making the product as good as it can possibly be." All marketing is done organically by her and a small team.

A bottle of cold-pressed juice may offer seven servings of greens, but its consumer base is not limited to only the most health-conscious people. In fact, many Greenhouse Juice customers are more balanced in their approach, according to Knight. They drink their juice in the morning so that they may indulge a little more throughout the day.

Editor's note: This story originally reported that Greenhouse Juice's Union Station location would open before the end of the year and that its production facility is 18,000 square feet. We regret the errors.