Sports Experts can tell if you take the easy way
The athletic retailer uses thermal imaging to reward Metro riders who chose to be healthy and climb the stairs.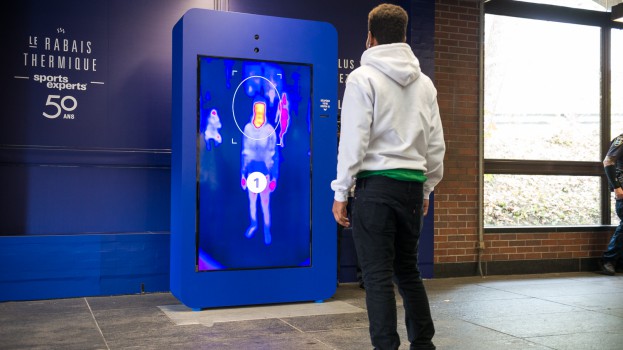 Most people tend to take an escalator if given the choice, even though they know that it's more healthy to take the stairs. But maybe a little financial incentive will get them to make the active choice?

Given that 85% of Montreal Metro transit riders don't use the stairs, athletic retailer Sports Experts decided to place an interactive screen inside a Metro station that has over 200 steps. The screen was outfitted with thermal imaging that analyzed body heat, so it could guess who took the escalator and who put in the extra effort of sweating it out on the stairs. The screen would also print out coupons for discounts based on exactly how much each person sweat.

Upon seeing the screen, some riders went back down and up the stairs to get a better discount, but others decided to try to get their reward for other physical activities, like dropping down and doing pushups.

The execution ties in to Sports Experts' established brand positioning, which focuses less on being performance-obsessed and more on the smaller fitness accomplishments people achieve as individuals.

The project was led by creative agency Rethink and media agency Touché.