VH Sauce refreshes Chinese New Year strategy
Here's how ConAgra is modernising efforts around the holiday with a new brand and retailer program.
Chinese New Year represents a huge opportunity for brands in the ethnic sauces category. As the leading player in the space, VH is looking to win the occasion with Quebec and retailer-specific programs.
For the third year in a row, the ConAgra Brands-owned company is running its "Join the Celebration" national program, which launched earlier this month and will be in-market until the Chinese New Year on Feb. 16.
This year, VH has put a lot more emphasis on the Quebec market, which represents a large portion of the brand's long-term, overall investment strategy. Consumers there represent close to 40% of the brand's total business, according to Ryan Fowler, senior brand manager at ConAgra Brands.
VH has customized its shopper programs to meet the specific needs of some of the retailers in the province, namely Metro and IGA, explains Rola Al-Badran, shopper marketing manager at ConAgra Brands. VH has partnered with celebrity chefs on in-store activations, contests and online programs at those grocery stores, as part of an integrated effort designed to increase foot traffic in the stores and leverage existing loyalty programs.
"We're really looking at these investments as a longer term play, rather than just a tactical seasonal element," Fowler says, regarding the brand's strategy in the province.
Outside of Quebec, Loblaws wanted VH to showcase easy meal solutions to increase basket building specifically around Chinese New Year. To meet that goal, the brand is testing merchandising blades in two different sections of the store – one in the meat section, the other in the ethnic sauces aisle – pointing customers towards three-step meals. Fowler says emphasis has been placed around the out-of-aisle perimeter displays, because it represents the biggest basket building opportunities for retailers. However, the brand still focuses on having multiple touchpoints, including at centre-of-store.
For the first time this year, the brand has partnered with retailers to leverage their digital platforms through coupons and activations. It will be running a digital insert on Walmart.ca as part of the retailer's Chinese New Year flyer program.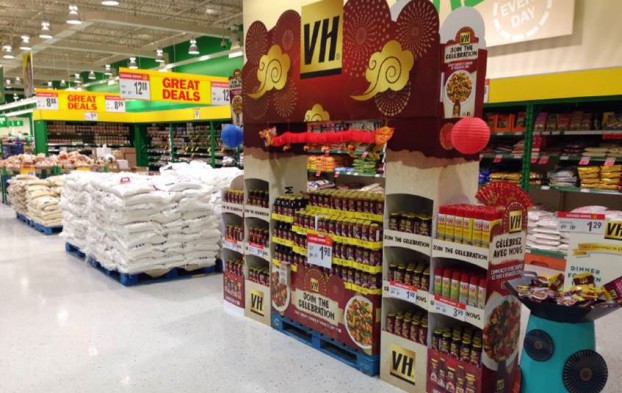 Having used the same creative concept for the last two years of "Join the Celebration," VH  has refreshed its in-store displays at every POS. The new creative features photos of dishes and a website directing customers to potential recipes, and were overall made to look more modern. While VH is perceived as an established, highly penetrated brand, says Fowler, it's also seen as slow to innovate, leading to a slight decline in relevance with consumers.

According to ConAgra, 1.6 million Canadians identify themselves as being of Chinese origin, giving brands a strong awareness-building opportunity around the Chinese New Year. Moreover, 57% of Canadians said they would be more open to eating ethnic food this year than in the past. However, ConAgra estimates that 25% of consumers still walk away from the Asian sauce section without having purchased anything because they feel intimidated, lost or confused by the overwhelming selection.

"What we're really trying to do from a VH communications standpoint, a VH activation standpoint, is to be that beacon of trust and safety within a scary, frustrating, confusing category," Fowler says.