America's top-selling ice cream pint to land in Canada
Halo Top will soon enter the Canadian market touting a product that's low in calories and sugar.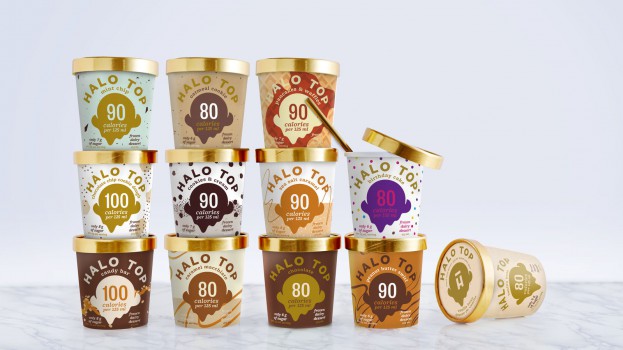 Halo Top will be hitting freezer aisles this month, bringing its popular low-calorie, high-protein ice cream to Canadian consumers.

Founded in 2011, the Los Angeles-based company carved out enough market share to become the top-selling ice cream pint in the U.S. last year, outsizing category behemoths like Nestle and Unilever that have long dominated the market. In Canada, the three largest ice cream producers — Nestle (whose portfolio includes Nestle, Dreyer's and Häagen-Dazs), Unilever (with Breyers, Klondike and Ben & Jerry's) and Chapman's — have a combined market share of around 64%.

The brand is planned to land in select Loblaw banners, Metro, Whole Foods, Save on Foods and CO-OP stores starting on Feb. 28, or shortly thereafter. Canadian consumers will have access to 12 of the brand's 24 dairy-based ice cream flavours, which range from Vanilla Bean (among its top sellers) to Peanut Butter Swirl, Chocolate and Pancakes and Waffles. The Halo Top portfolio includes an additional 14 dairy-free flavours, according to its American website, but only its dairy-based products will be available in Canada for now.

Product assortments are still being negotiated with retailers, but most stores will carry anywhere from six to all twelve flavours.

Halo Top president and COO Doug Bouton attributes the brand's success in the U.S. to having the "right product at the right time." Industry trends around low-calorie, high-protein, low-sugar diets have opened up opportunities for the frozen desserts company that has dubbed itself the "guilt-free option."

Halo Top products count between 80 to 100 calories per serving, fewer than those of many competitor brands. They also generally contain less sugar and more protein. But Halo Top's determination to "stay true to its roots, and to be as authentic and genuine as possible" has really set it apart from large multinationals, Bouton says.

In the U.S., the brand has grown the ice cream category as a whole, according to Bouton. Rather than steal customers from competitors, he says, Halo Top has attracted a new consumer segment that would have previously avoided ice cream altogether.

Since having gained traction south of the border, the company has been "inundated" with requests from Canadians hoping to purchase Halo products locally, says Bouton. The biggest challenge has been navigating Canadian regulations around dairy imports. So the company decided to open operations here in Canada. It would have likely already entered the market, says Bouton, had it not been for those challenges.

To date, Halo Top has had success without much of a marketing spend. It handles its branding and marketing internally, engaging with customers through social and digital channels, and it intends to continue with that same approach in Canada.

Still, "we know it's not a one-time, fits-all solution," adds Bouton. "Everything we did in the U.S. is not going to translate one-to-one in Canada. We really need to partner with the right people, who can help translate our brand the way we want it translated."

The brand is currently negotiating slotting fees, promotions and in-store signage with retailers. But Bouton says it intends to implement a "pretty aggressive promotional plan" during its first year in Canada.