2018 CRC: Cossette's got global goals
The #1 CRC agency is in the midst of a creative renaissance, thanks to top CDs Carlos Moreno and Peter Ignazi at the helm.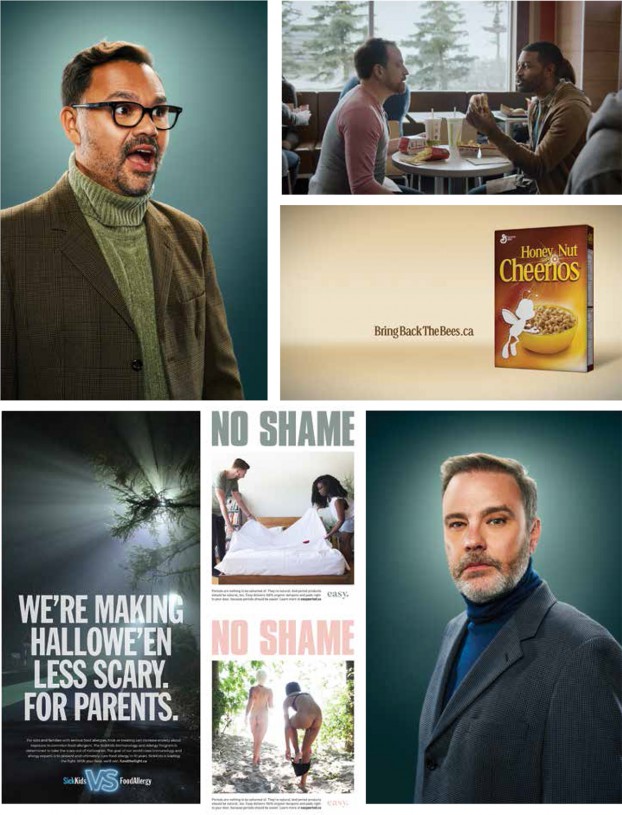 Curious who else is on top of the Creative Report Card? Be sure to check out the full rankings, and check back in the days ahead to see how Canada's agencies, brands, creatives and strategists earned their top spots.

This story appears in the March 2018 issue of strategy.

Peter Ignazi, Cossette's newly minted global CCO, is just about to leave our 40-minute meeting in the office of EVP, GM Daniel Shearer when he notices that the light switches are crooked and slightly misaligned.

"These things drive him crazy," says Ignazi with an impish smile, pulling out his phone and taking a picture to send to Shearer, who is out of the office on business and something of a perfectionist when it comes to his workspace. "This is messy for him," he says jokingly, gesturing around the impeccably ordered office.

A crooked light switch might seem insignificant, but Ignazi and his team didn't get to the top of the CRC by overlooking the small stuff.

Ignazi and fellow global CCO, Carlos Moreno, have been putting their creative imprimatur on Cossette ever since they shocked the Canadian agency world by defecting from BBDO in 2015.

Creative partners since first meeting at MacLaren McCann in 1998, the two have overseen a period of creative excellence rivalling any in the agency's 45-year history. Cossette's recent remarkable run has led to accolades at national and international shows for work with clients including SickKids, McDonald's and General Mills. The hugely successful and influential SickKids "VS" campaign alone collected eight Lions in Cannes last year, where it was instrumental in pushing Canada to a record 44 Lions.

Along the way Ignazi and Moreno have bolstered the creative team with hires that include #1 Copywriter Craig McIntosh and #1 Art Director Jaimes Zentil (both worked on the "VS" platform, and also racked up CRC points for Budweiser's Red Light).

The hires are among broader changes to Cossette's creative ranks that has seen Sonia Girouard named CD for Quebec City, and Montreal's leadership divided among five VPs, each representing a different discipline: Chris Bergeron (content experience); Barbara Jacques (design and branding); Daniel Ouellett (strategy and experience design); Anne-Claude Chénier (creative advertising); and Michel-Alex Lessard (strategy).

"Everything was in place in terms of the culture and philosophy, we just needed to find a way of looking at creative that would bring us to the next level," says Ignazi of the hires and promotions. "One of our big jobs was attracting the right kind of people and getting the right kind of work out of the people who were here."

Global CEO Melanie Dunn says Cossette is in the midst of an "ongoing and never-ending" transformation under its owner of three years, China's BlueFocus, but is unequivocal about the impact Ignazi and Moreno have had since their arrival. She says the pair's January promotion to the role of co-global CCOs will play a critical role as the shop continues to expand into international markets, particularly Asia.

"I need global creative leaders who can help me expand the brand," says Dunn. "It's about inspiring the people [in Canada] but also making sure that our creative voice and vision resonates in every country."

There is a large poster in Cossette's Toronto office that reads, "Creativity is not a risk." This has become a mantra for the agency, manifesting itself in category-defining work like "VS" and Honey Nut Cheerios' "Bring Back the Bees."
Ignazi and Moreno boast impeccable creative credentials that include a combined 23 Cannes Lions, 26 Clios and 19 Gold ADCC Awards, but Ignazi says their leadership style is designed to encourage creativity. "It's more creative directing as opposed to creative dictating," he says.

"It's not about how we think about things, but allowing people to flourish and bring their ideas to the table," adds Moreno. "If it feels correct to the team, we will help them make it better and sell it through as far as we can in terms of making it come to life."

They've also championed a process that Moreno refers to as a "creative scrimmage," where clients are privy to the messy creative process, not just the polished final product. "It's imperative we bring them in early and make them part of the process," says Moreno. "We are up front with our clients: This process will be ugly, and you'll be a part of it. You'll see a lot of really bad shit before we get to the greatness, but it will come. It's where 'VS' came from."

While that work has attracted most of the plaudits, other Cossette campaigns are emblematic of Ignazi and Moreno's desire to make Cossette a "globally famous" agency. That includes "Bring Back the Bees," which was picked up in the U.S. and the "Is it a Big Mac?" work for McDonald's, adapted for markets including France.

Canada's long-standing reputation for self-effacement is perhaps best embodied by a conversation Ignazi once had with Pete Favat, CCO at Deutsch in Los Angeles, while judging an awards show last year.

"He was saying, 'You Canadians do a lot of good work; I didn't realize that. You need a better PR agency,'" says Ignazi. "I think we have great work here, but in general we don't do enough beating of our own drum."

Canadians may not be boastful or prideful by nature, but Moreno can't help notice a sense of pride within the agency. "There's an energy in this place and everyone's got a bit of a spring in their step," he says. "The work is going to lead the way, so that's what we're going to concentrate on."

It's that kind of attitude that will ensure the lights – crooked switches and all – stay on at Cossette long into the future.