Tech in Action: Toyota prints a sensory experience
The automaker builds sensors and scents into a magazine ad to convey the excitement of the new Camry.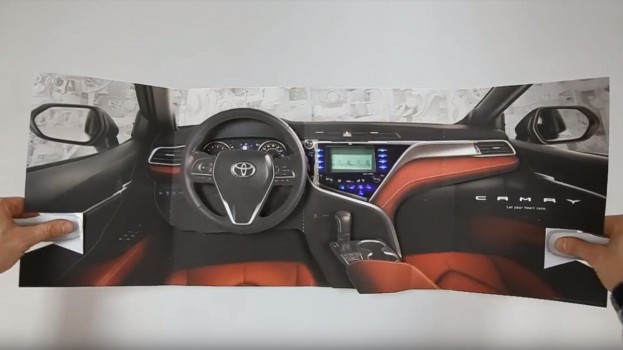 Print is often seen as an advertising medium from a simpler, less tech-obsessed time. Toyota is changing that by adding a touch of digital flare to an insert meant to show would-be Camry owners how the car fully engages all of their senses.
In the most recent issue of InStyle magazine, a centrefold asked readers to grip two "handles" and open the doors of the 2018 Camry model. Opening the fold revealed a pop-up version of the car's interior. Sensors built into each of the handles connects to a simple controller that activates an LCD screen, displaying the reader's heart rate on the car's in-dash screen.
But the sensory experience goes beyond the beeps of the heart monitor (which is simulated, but still fits with the ad's message of stimulating your senses). The pages have also been infused with the scent of the car's leather interior. Toyota worked with agency Saatchi & Saatchi and print production company Structural Graphics on the campaign.