Salinex wants consumers to take a deep breath
The nasal care brand's first campaign in three years aims to drive differentiation in a highly functional category.
Whether entering an important board meeting or waiting for results from a pregnancy test, taking a deep breath can be an effective way to cope with a stressful moment.
Sandoz Canada and John St. are reminding consumers to consider these words of wisdom in a new national campaign for nasal spray brand Salinex.
"Take a Deep Breath" launched in January and marks the first creative for Salinex since 2015. Previously, Sandoz focused mostly on its generic pharmaceuticals, but in recent years created a dedicated business unit to focus more on its consumer products. Salinex was its biggest brand in its portfolio of 12 nasal SKUs.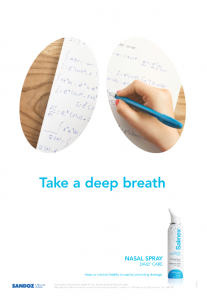 François David, who joined as marketing executive director for the consumer products unit at Sandoz in 2016, says the company sees growth opportunity in the category. Pharmacists and doctors already recognize the brand, but the company wanted to create more awareness with consumers.
The creative features five highly relatable stories, each with its own 15 second TV spot, airing on both conventional and specialty channels. Each video features a stressful moment – a man entering a board meeting, a teen arriving at a party, a woman waiting for results from a pregnancy test, a swimmer getting ready to jump off of a diving board. After taking a deep breath, the individuals in each video can cope.
The campaign also includes a 40-second spot combining all stories, as well as print, OOH, in-store advertising and web banners. The target is moms aged 30 to 45, who are the main purchasers of these products and 90% of the time buys for the entire family. Spark Foundry handled the media placement of the creative.
"The emotional approach brings something different to this category, which is usually focused on cold and cough relief," says Cédric Audet, creative director at John St. Messaging in the nasal category revolves around a functional "problem-solution" type of promise to consumers, so Salinex adopted this new positioning as a mean to differentiate itself from the competition.
The French creative uses the tagline "Respirez par le nez," which translates to "Breathe through your nose," but can also mean "Chill out, relax, you can do this" says Audet.
The English campaign uses the tagline "Take a deep breath."
Salinex has used this tag before, but Audet says it works particularly well with this campaign, as the creative highlights everyday courage to bring an emotional connection to the category (which is often focused on relief-driven marketing). The campaign runs until June.