Check it Out: Tim Hortons sets up a coffee date
The QSR orchestrated a stunt to show that getting to know your neighbours is easier than you think.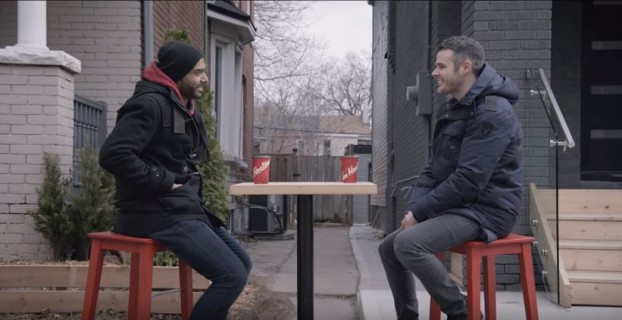 With a recent company survey showing that 50% of Canadians "hardly know" their neighbours, Tim Hortons wanted to show how freshly brewed coffee can bring people together.
Over the last month, the brand surprised Canadians by visiting their homes and inviting them to have a cup of coffee with their neighbours in the front yard. It then filmed the interactions to help show that getting to know each other is a lot easier than people might expect, although a few people were visibly hesitant to partake in the experiment.
The campaign sprung from a Tim Hortons' survey, carried out earlier this month, that showed that while 67% of Canadians are open to going for coffee with their neighbour, only 35% said they would know how to initiate the meeting.
The company says the stunt was its way of helping to "foster relationships and build connections in communities across the country."
As part of the campaign, Tim Hortons is encouraging people share the reasons they would like to have coffee with their neighbours on their social media channels using the hashtag #CoffeeWithNeighbours.