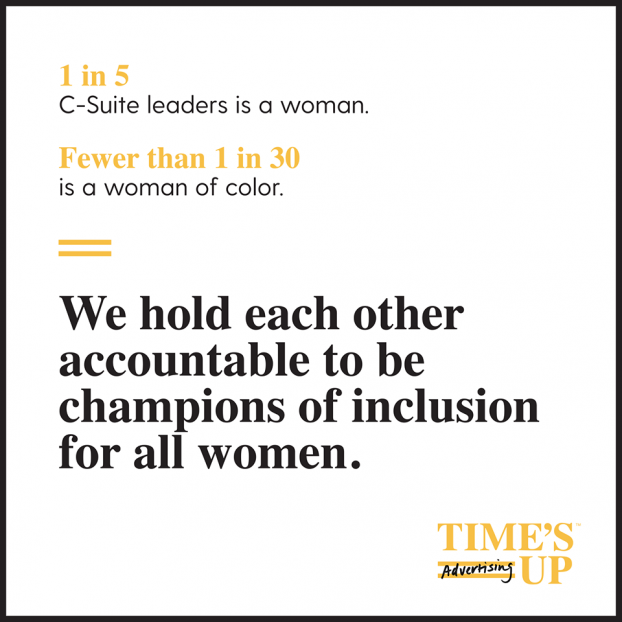 The Institute of Communication Agencies (ICA) has announced that it will be holding an event to give women at ad agencies in Canada a platform to make their voices heard about issues they are facing in the industry, organizing a community gathering with Time's Up Advertising in Toronto.
The forum will take place on May 14, coinciding with similar community gatherings taking place on the same day in New York, Los Angeles, San Francisco and Chicago.
The Toronto gathering will also be part of the ICA's first Agency Transformation Summit, being held in Toronto on May 14 and 15. The ICA has long held a May event for members, but Leah Power, EVP of agency operations at the ICA, says this year the organization was looking to provide more internal, business-focused thought leadership to help members deal with disruption, to transform and grow their business. Given the importance of the diversity issue, the ICA saw including an event in support of Time's Up Advertising as a good fit for its summit.
Power says it is too early to say exactly what the Time's Up forum would look like, but that it will focus on policies, practices and – most importantly – tangible actions agency leadership can implement to improve diversity and create safe work environments.
"At the end of the day, it's about getting the community together," Power says. "We want female leaders there, because they are the ones that will drive this change. But we also want men to be there and feel comfortable to be part of the conversation so they can do their part. And not just senior people, because it's our junior staff that are going to be coming up with ideas that cause this change. Really creating a community so those ideas can flourish is really important."
Time's Up Advertising launched earlier this month, an offshoot of the Time's Up movement focused specifically on addressing harassment and discrimination issues in the advertising industry. ICA board members Melanie Johnston (president of DDB Canada), Judy John (CEO of Leo Burnett Canada and CCO of Leo Burnett North America) and Jill Nykoliation (CEO of Juniper Park\TBWA) were all signatories to the letter. Other signatories from ICA member agencies included Elana Gorbatyuk, SVP of strategy at Sid Lee; Patty Jones, managing director of DDB Vancouver; Helene Leggat, president of DDB Edmonton; and Helen Pak, president and CCO of Grey Canada.
The ICA is also signed to a code of conduct for Canada's creative sector, released on March 8 to help combat harassment in the industry. Power says the ICA is continuing to work on other initiatives to help build diverse and safe workplaces.
"We need to be creating diverse workplaces," she says. "Those diverse workplaces, whether its in terms of skillset or race or gender, will make a business better and stronger. There is the social good aspect of this, and the fact that we should be doing it just because it's the right thing to do. But it will also create a really strong business."