Fountain Tire hits the road with a new brand platform
The auto retailer moves past prices and promotions to build a trusted partnership with its customers.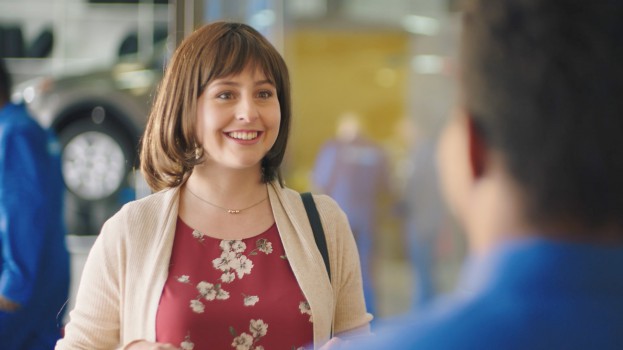 FCB Canada's new campaign for automotive retailer Fountain Tire introduces "We're on this Road Together," a new brand positioning aimed at creating more of a connection beyond prices and promotions.
To illustrate what this means to consumers, the 30-second spot "Better than Jenny" shows viewers that although you can't always rely on a friend to help with your tire or vehicle needs, you can depend on Fountain Tire. The retailer aims to transform the connection drivers have with their auto service retailer from one focused on transactions and sales focused to more of a trusted partnership.
The brand previously advertised based on price and promotion, and best known for its longstanding spokesperson, played by actor Thom Sharp. However, with a focus on price points and offers, the company mission was getting lost, so Fountain Tire chose to discontinue the relationship with Sharp to have a voice that could better articulate the brand's message. The previous campaigns also weren't resonating with a younger audience.
"This change allows us to alter the tone and manner in which we speak, and talk to our retail and commercial customers," says Jamie Bliss, director of marketing for Fountain Tires. Rather than talking only to products and services, the retailer can now share more about its values and beliefs. "The approach we took through our spokesperson could make us come off as pushy, or all about the immediate sale … when we are there to help customers."
Bliss says there is also a lack of trust between the consumer and the automotive industry, and "customers often feel alone when it comes to tire and vehicle decisions."
"Humour has been a hallmark of the Fountain Tire brand and experience, so we didn't want to move away from that completely," adds Nancy Crimi-Lamanna, CCO at FCB Toronto. "However, we wanted the humour to be more modern to re-energize the brand and appeal to a wider demographic."
To the general public, a tire is a tire, and Crimi-Lamanna says the tires and auto service category is increasingly competitive with the rise of discount tire retailers and e-commerce. That is why the brand needed a strong platform. "Since tires are a grudge purchase, people buy when they have to and as a result, want to get the lowest possible price."
This new campaign comes after FCB produced a more serious activation ahead of the holidays addressing an important safety issue – bald tires – as worn tires increase the chances of accidents by 26% in poor driving conditions.